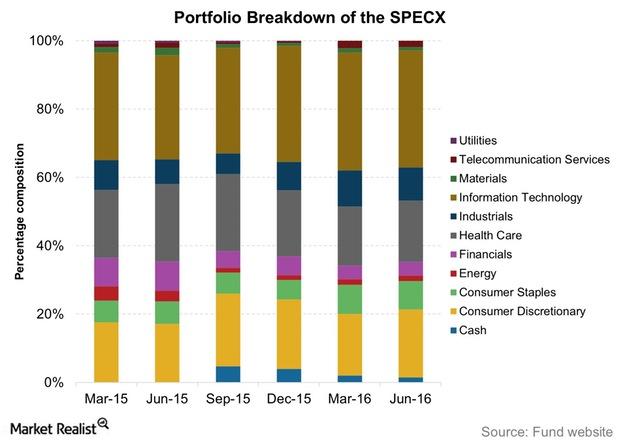 Sector Composition of the Alger Spectra Fund in YTD 2016
By David Ashworth

Sep. 1 2016, Updated 8:05 a.m. ET
Alger Spectra Fund overview
The Alger Spectra Fund (SPECX) invests in those stocks that it believes offer growth potential. It can invest across market caps.
The fund can use leverage, or borrowing money, to purchase stocks and can also engage in short-selling. It also retains the flexibility to invest in foreign securities.
SPECX notes that its investment philosophy leads it to invest in "companies undergoing positive dynamic change." It defines these companies as those that are either realizing high unit volume growth or undergoing positive life cycle change.
According to Fred Alger Management, high unit volume growth companies are those experiencing a sharp rise in demand or market dominance. Meanwhile, companies undergoing positive life cycle change are those that benefit from events such as regulatory changes, new products, or a change in management.
Newell Brands (NWL), Class B shares of CBS Corporation (CBS), Molson Coors Brewing (TAP), Adobe Systems (ADBE), and Aetna (AET) were among the fund's 148 holdings at the end of June 2016. In July 2016, the fund was managing $5.5 billion in assets.
Article continues below advertisement
Portfolio changes in the Alger Spectra Fund
The information technology sector leads the sectoral composition, with 38% of the assets invested in the sector. Healthcare and consumer discretionary are the other sectors that form the core of SPECX. These three sectors combine to form ~77% of the portfolio. Except these three, no other sector forms a tenth or more of the fund's assets. The fund is not invested in the utilities sector.
Compared to the Russell 3000 Growth Index, SPECX is markedly overweight in the information technology and healthcare sectors. Meanwhile, it is sharply underweight in the consumer discretionary, consumer staples, industrials, materials, and financials sectors.
We've looked at the quarterly portfolios of the Alger Spectra Fund (SPECX) for the past three years through June 2016. Its allocation to the consumer discretionary sector has been increasing after bottoming out in 1Q15. However, at 17.7%, it is still far from the 24% levels seen in 3Q13.
For the most part, the consumer staples sector has seen a gradual increase in the past three years. The financials sector is clearly out of favor—the sector previously formed a tenth of the fund's assets three years ago. Currently, its weight is just 3.3%. On the other hand, healthcare and information technology stocks have seen a clear uptrend in their portfolio weights.
How has the Alger Spectra Fund – Class A (SPECX) fared in YTD 2016, and what has contributed to its performance? Let's look at that in the next article.