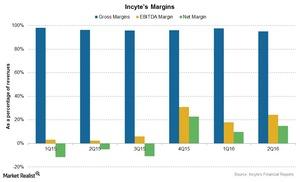 Incyte's Profitability Improves, Allowing for Revised Guidance
By Mike Benson

Sep. 5 2016, Updated 11:04 a.m. ET
Incyte's profitability
Incyte (INCY) reported revenues of $246.3 million in 2Q16, an increase of 51% compared to $163 million in 2Q15. It also reported a net profit of $36.5 million in 2Q16 compared to a loss of $8.4 million in 2Q15.
Incyte's gross margin declined to 95.0% for 2Q16 compared to 96.2% for 2Q15. This was mainly due to an increase in the cost of production.
Research and development expenses increased to $120.3 million in 2Q16, a ~7% increase over 2Q15 due to an increase in spending on clinical trials and studies for drugs in the pipeline.
Selling, general, and administrative expenses increased to $66.8 million in 2Q16 compared to $51.7 million in 2Q15.
Incyte reported an EBITDA (earnings before interest, tax, depreciation, and amortization) margin of 24.2% for 2Q16 compared to 2.4% for 2Q15. Its net profit margin improved to 14.8% in 2Q16 compared to a net loss of 5.1% in 2Q15.
Article continues below advertisement
Financial guidance 2016
With the acquisition of Ariad Pharmaceuticals' European operations and the uptake of the drug Jakafi in US markets, Incyte revised its financial guidance for 2016. It did this in its 2Q16 results on August 9, 2016.
The company has increased it estimates for Jakafi's net revenues to $825 million–$835 million for 2016. Previous estimates were $815 million–$830 million. Incyte also revised its estimates for research and development expenses to $620 million–$630 million from its previous estimate of $635 million–$660 million. However, it made no changes to its estimates for selling, general, and administration expenses.
From Ariad Pharmaceuticals' (ARIA) European operations, the company anticipates $25 million–$30 million in revenues from Iclusig for 2016.
To divest the risk, you can consider investing in ETFs such as the Vanguard Mid-Cap Growth ETF (VOT), which holds ~0.9% of its total assets in Incyte, 0.5% in Edwards Lifesciences (EW), and 0.8% in BioMarin (BMRN).