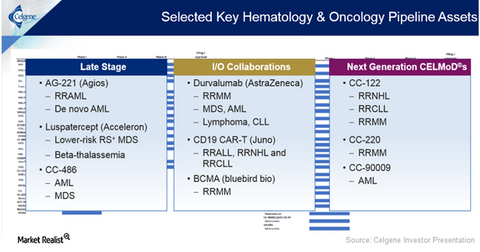 Celgene Continues to Develop Its Hematologic Oncology Pipeline
By Margaret Patrick

Updated
Hematologic oncology pipeline
In addition to research programs targeted at expanding approved indications for its existing hematologic oncology drugs, Celgene (CELG) is involved in advancing its new drug research pipeline. This will enable the company to pose strong competition to other hematologic oncology players such as Amgen (AMGN), Novartis (NVS), and Pfizer (PFE).
Article continues below advertisement
Late-stage programs
Celgene is exploring a new drug, AG-221, in collaboration with Agios Pharmaceuticals, as a therapy for patients with acute myeloid leukemia (or AML). The enrollment of human subjects for the Phase 2 expansion study of AG-221 has been completed.
Celgene is also researching another new drug, Luspatercept, in collaboration with Acceleron Pharma, aimed at treating anemia in patients suffering from lower risk myelodysplastic syndromes and beta thalassemia.
Immuno-oncology collaborations
Celgene has collaborated with AstraZeneca (AZN) for developing combination therapies based on Durvalumab, combined with Revlimid, Pomalyst, or Vidaza. These therapies are expected to treat multiple myeloma (or MM) patients in all stages of disease progression.
Additionally, some of these combinations may be targeted at other types of non-Hodgkin lymphomas. To know more about Celgene's MM research programs, please refer to Celgene Continues to Develop New Multiple Myeloma Drugs.
Celgene chose to exercise the option of participating in Juno Therapeutics' CD19 CAR-T program in April 2016. The company is also involved in developing a new MM drug, BB-2121, in partnership with bluebird bio. These endeavors, combined with next-generation CELMoD research, are expected to further strengthen Celgene's hematologic oncology franchise.
If these research programs prove successful, it could boost Celgene's share price as well as the price of the Vanguard Growth ETF (VUG). Celgene makes up about 0.94% of VUG's total portfolio holdings.
In the next article, we'll explore growth trends for Otezla's sales in 2016.