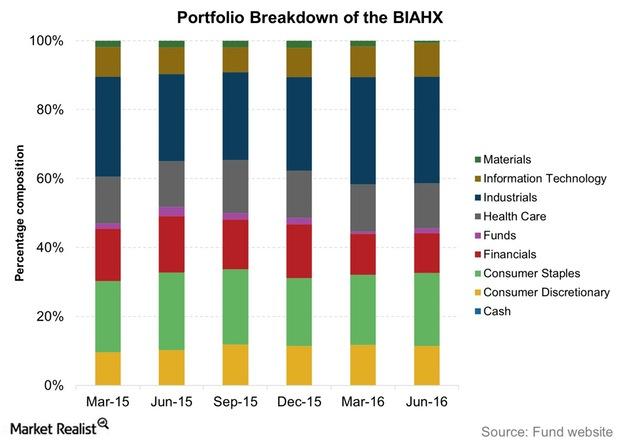 Seeking Returns by Investing Mainly in European Equity Securities
By David Ashworth

Jul. 27 2016, Published 3:33 p.m. ET
Brown Advisory WMC Strategic European Equity Fund overview
The Brown Advisory WMC Strategic European Equity Fund Investor Shares (BIAHX) "seeks to achieve total return by investing principally in equity securities issued by companies established or operating in Europe."
Generally, the fund will invest at least 80% of its net assets in companies "domiciled in or exercise the predominant part of their economic activity in Europe." The fund considers Europe to be nations that are included in the MSCI Europe Index.
The fund's management applies the bottom-up approach to stock selection and intends to hold stocks for long periods of time. It generally invests in 50–80 securities across market capitalizations. It looks for companies with above-average business models or technological competitive advantages.
The fund was invested in 64 holdings in June 2016, and it was managing assets worth $1.1 billion. Its equity holdings included Heineken (HEINY), Smith & Nephew (SNN), L'Oréal (LRLCY), ASML Holding (ASML), and Salvatore Ferragamo (SFRGF), which made up 10.3% of its portfolio.
Article continues below advertisement
Portfolio changes in the Brown Advisory WMC Strategic European Equity Fund
The portfolio composition of BIAHX is unlike most other funds in this review. Its largest sectoral holding is industrials—not a popular choice for the topmost invested sector among its peers. Apart from industrials stocks, which form 31% of its assets, consumer staples stocks are also at the core of the fund's holdings, as they form one-fifth of its portfolio. Healthcare and financials command a combined one-quarter of the portfolio pie. The fund is not invested in the energy, telecommunications services, or utilities sectors.
Compared to the MSCI Europe Index, the fund is markedly overweight in the consumer staples, information technology, and industrials sectors. Meanwhile, it's sharply underweight in the financials and materials sectors.
The fund has yet to complete three years in operation. Its earliest quarterly portfolio available is from March 2014. From then until June 2016, the fund's management stepped up its exposure to financials, healthcare, and information technology stocks. However, even though BIAHX's exposure to financials is higher than it was in March 2014, it's down from mid-2015 levels. Materials has gone out of favor with the management.
How has BIAHX fared year-to-date, and why? Let's discuss this in the next article.