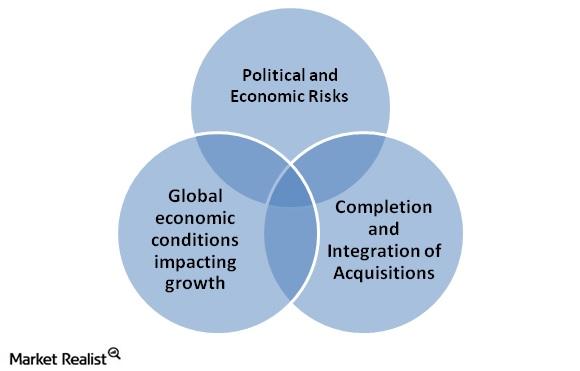 What Risks Does Roper Technologies Face?
By Jessica Stephans

Jul. 7 2016, Updated 9:07 a.m. ET
Political and economic risks
In 2015, 31.4% of Roper Technologies' (ROP) total revenue came from outside the United States. This exposed ROP to uncertainties related to politics, import and export limitations, exchange controls, and currency fluctuations.
ROP's business is also vulnerable to economic conditions such as high interest rates, inflation, high labor costs, tax laws, and trade barriers. Overall demand for flow control equipment is determined by economic cycles, levels of capital spending, and other industrial sectors.
Article continues below advertisement
Completion and integration of acquisitions
Roper Technologies' growth strategy includes acquisitions. Thus, its future incremental growth largely depends on its ability to acquire and successfully integrate new businesses.
There's no set formula for a successful acquisition. Many factors play a part, such as the identification of suitable candidates, the negotiation of appropriate terms, the acceptability of crucial financial terms, integration, and expansion into new markets.
Future acquisitions may result in further dilution in ROP's equity, having an adverse material effect on its business, financial condition, and operating results.
Global economic conditions impact the industrial and energy segments' growths
The revival of global growth is of the utmost importance to ROP's industrial and energy segments. From 2013 to 2015, ROP's revenue streams for its Industrial segment and Energy Systems and Control segment were hit by a weak macroeconomic environment.
The company's Industrial and Energy Systems segments' revenues have fallen at CAGRs (compund annual growth rate) of 2.2% and 5.0%, respectively, since 2013. The segments' orderbooks have also fallen at CAGRs of 2.7% and 9.2%, respectively, since 2013.
Article continues below advertisement
There have been revenue falls in two of ROP's four segments. This can be attributed to underperformance in the industrials (XLI) sector, particularly in the machinery segment, which has led to sales erosion. This erosion has occurred on account of woes in oil and gas, chemicals, and general industries as well as weak demand in emerging markets.
Write-offs of intangible assets will severely hit profit and loss account
In 2015, ROP's goodwill stood at $5.8 billion, representing 57% of its total assets of $10.2 billion. Goodwill results from acquisitions. It represents the excess of cost over the fair value of net assets.
If ROP's business assets' values fall significantly in the future, then the company's amortization of assets—goodwill, or intangibles—will have to be written off. This could hamper the company's profits.
ETF investments
The PowerShares Water Resources ETF (PHO) holds 7.1% in ROP. Investors will benefit if ROP shows a strong operating performance in 2016. Pentair (PNR), Water Corporation (WAT), and American Water Works (AWK) are among the top ten holdings of PHO. They account for 8.8%, 8.0%, and 8.0% of the fund, respectively.
Keep reading for a discussion on Roper Technologies' operations.