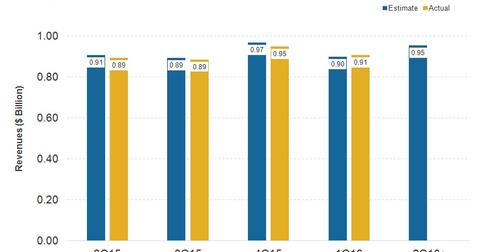 What Does the Market Expect for Roper Technologies' 2Q16 Revenues?
By Jessica Stephans

Updated
Market expectations
Roper Technologies (ROP) will release its 2Q16 earnings on July 25, 2016. The Wall Street analyst estimate for Roper's 2Q16 revenue is ~$954 million, which is 5.3% higher than in 2Q15. On a sequential basis, revenues are expected to increase by 6.1%.
In ROP's 2Q16 results, investors should closely watch the Industrial Technology segment's growth as well as its operating margins. At the same time, the guidance and outlook that Roper Technologies gives for each of its segments will be crucial. ROP's quarterly revenues have missed analyst expectations in six of eight previous quarters.
Article continues below advertisement
Revenue streams
ROP's revenues can be broadly classified in the four following segments:
Medical and Scientific Imaging
RF Technology
Industrial (XLI) Technology
Energy Systems and Controls
These segments contributed around 37%, 31%, 19%, and 13%, respectively, to the company's consolidated revenues in 1Q16.
Revenues to date
ROP's 1Q16 revenue stood at $906 million, nearly 0.9% above the market consensus of $898 million. For 2016, analysts expect ROP to report revenue of ~$3.8 billion, ~6.0% higher than its revenue of $3.6 billion in 2015.
Will ROP's Energy and Industrial technology segment support its fiscal 2016 targets after the company's 2Q16 results? Investors will need to wait for July 25, 2016, for more insights.
Peers
3M Co (MMM), Honeywell International (HON), General Electric (GE) are some of ROP's peers operating in the industrial space. However, they can't be strictly compared to any other company due to their diversified product bases and revenue streams.
3M Co expects its 2Q16 revenue to be $7.7 billion, which would be 0.5% higher than in 2Q15. By comparison, HON expects that its 2Q16 revenue will be $10.1 billion, which would be 10.4% higher than in 2Q15. General Electric expects that its 2Q16 revenue will be $23.5 billion, or 18.2% lower than in 2Q15.
In the next part, we'll cover the market expectations for Roper Technologies' earnings.