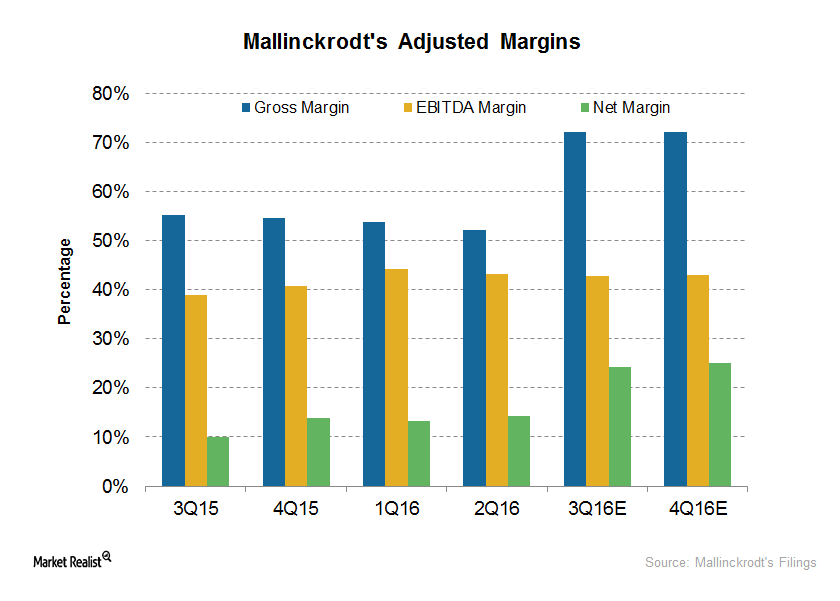 Can Mallinckrodt Expand Its Margins?
Mallinckrodt's net margin
Wall Street analysts expect Mallinckrodt's (MNK) net margin to jump to 24.3% in 3Q16 from 10% in 3Q15. The specialty brands' growing margin may be the anchor behind the margin expansion. The recently added Inomax and Therakos are high margin businesses, along with the existing Acthar. For information on Inomax and Therakos, please refer to Inside Mallinckrodt's Major Valuation Catalysts.
Following Wall Street analysts' projections, Inomax is expected to record a $108 million margin in 3Q16, a 33% jump on a year-over-year basis. Mallinckrodt plans to change its fiscal year end to December from a September end. This would lead to a transition period from October 1 to December 30, 2016.
Article continues below advertisement
Substantial improvement in gross and net margins
Mallinckrodt's gross margin is expected to expand significantly to 72.1% in 3Q16 from 55.3% in 3Q15. The company is expected to achieve improved efficiency following restructuring. The net margin expansion will be further supported by a share repurchase program.
MNK has revised the 2016 guidance for adjusted diluted earnings per share to 7.85–$8.30. Industry-specific factors such as pricing pressure and volume uptake are the major contributors to any company's performance. The stock price is susceptible to such events. To avoid such risk, ETF might prove to be a good option. ETFs offer diversified exposure. If you invest in First Trust Health Care AlphaDEX ETF (FXH), you can enjoy exposure to the high-risk Mallinckrodt. The fund offers a 1.8% and 1.8% exposure to Mallinckrodt and Medivation (MDVN), respectively. FXH has a 14.1% exposure to pharmaceutical companies. Pfizer (PFE) and AbbVie (ABBV) make up ~1.3% and 0.88% of the fund's total assets, respectively.