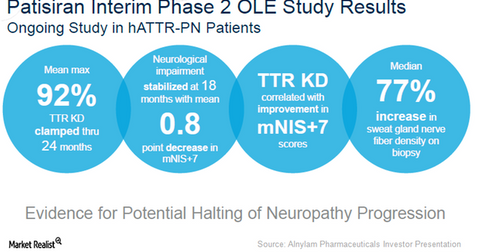 ALNY Reports Positive Results from Patisiran's Open Label Extension Study
By Margaret Patrick

Updated
Share price impact
On July 1, 2016, Alnylam Pharmaceuticals (ALNY) published positive preliminary results from its ongoing Phase 2 open label extension (or OLE) study. This study is testing Patisiran as a treatment for hereditary TTR-mediated amyloidosis with polyneuropathy (or hATTR-PN).
After the release of this data, Alnylam Pharmaceuticals witnessed a strong rise in share prices of about 10.7% from $55.49 on June 30, 2016, to $61.44 on July 1, 2016.
Article continues below advertisement
If Patisiran manages to further demonstrate its efficacy and safety in the Phase 3 trials, it could have a positive impact on the share prices of Alnylam Pharmaceuticals as well as the iShares NASDAQ Biotechnology ETF (IBB). Alnylam Pharmaceuticals makes up about 0.95% of IBB's total portfolio holdings.
Interim results
The above diagram shows the interim results from Patisiran's Phase 2 OLE study after administering the drug to patients for 18 months, published on November 2, 2015. The data demonstrated that patients using Patisiran witnessed an average decline of 0.8 points in modified neuropathy impairment score (or mNIS+7) scores. This is compared to historical average rise of 22–26 points in patients with no treatment.
Article continues below advertisement
Data from the Phase 2 OLE study has also indicated median improvement of 77% in nerve fiber density of the distal thigh sweat glands. Nerve fiber density is considered to be an indicator of the severity of peripheral neuropathy. Based on these results, Alnylam Pharmaceuticals expects to provide strong competition to Ionis Pharmaceuticals (IONS) in the hATTR segment.
Clinical ALS Trials explains the OLE study as a "trial design feature; at the conclusion of a randomized, placebo-controlled trial, all participants are invited to take the active study drug, regardless of whether they were on active study drug or placebo.
"Typically researchers continue to gather information from participants during the open-label phase. If a drug is shown to be ineffective or unsafe, the open-label extension is closed."
Preliminary results
Preliminary results from the Phase 2 OLE study, which tested impact on patients after being administered Patisiran for 24 months, have further confirmed positive impact of the drug on patient health. The data from the study indicates that use of the drug may help to stop or reduce neuropathy progression in hATTR-PN patients.
Patients on Patisaran treatment displayed a mean decline of 6.7 points in mNIS+7 score. Historically, patients have witnessed a rise of 26–30 points in the mNIS+7 score without any treatment.
According to Medical News Today, "Neuropathy is the term used to describe a problem with the nerves, usually the 'peripheral nerves' as opposed to the 'central nervous system' (the brain and spinal cord)."
With a high possibility of regulatory approval for Patisiran, Alnylam Pharmaceuticals is expected to become a key rare disease player like Vertex Pharmaceuticals (VRTX) and United Therapeutics (UTHR).
In the next article, we will study the design of the Endeavour Phase 3 study for Revusiran.