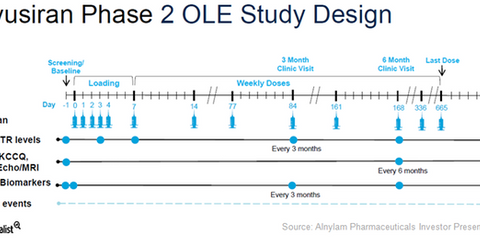 ALNY Reports Positive Results from Open Label Extension Study of Revusiran
By Margaret Patrick

Updated
Revusiran Phase 2 open label extension study
On July 1, 2016, Alnylam Pharmaceuticals (ALNY) published positive preliminary results from its Phase 2 open label extension (or OLE) study. This study is designed to understand the efficacy and safety profile of Revusiran as a treatment for hereditary ATTR amyloidosis with cardiomyopathy (or hATTR-CM).
The data demonstrated stable six-minute walk distance results in hATTR-CM patients who had been administered Revusiran for 12 months. The use of Revusiran is also shown to have resulted in a significant decline in TTR protein up to 18 months of drug administration, which is considered to be one of the causative agents of hATTR disease.
Article continues below advertisement
Study design
The above chart shows design of the Revusiran Phase 2 OLE study. In this study, 23 patients were dosed with Revusiran daily for the first five days, followed by weekly dosing.
To measure efficacy and safety of the drug, endpoints such as a six-minute walk distance, level of serum TTR in body, hospitalization, and mortality were measured after every six months.
If Alnylam Pharmaceuticals reports positive data for Revusiran from the Phase 3 Endeavour trials, it may boost the company's share prices, as well as those of the SPDR S&P Biotech ETF (XBI). Alnylam Pharmaceuticals makes up about 2.4% of XBI's total portfolio holdings.
Future commercialization
Alnylam Pharmaceuticals (ALNY) shares co-development and co-commercialization rights related to Revusiran, with Genzyme, a fully owned subsidiary of Sanofi (SNY). Partnering with a big pharmaceutical company could enable Alnylam Pharmaceuticals to launch the drug in multiple markets through several sales channels.
However, Revusiran may face probable competition from Ionis Pharmaceuticals (IONS) and GlaxoSmithKline's (GSK) investigational drug for hereditary ATTR amyloidosis. Additionally, the drug is also expected to experience pressure from Alnylam Pharmaceuticals's subcutaneously delivered investigational drug, ALN-TTRsc02.
Although the drug is currently in a Phase 1 trial, it is expected to cannibalize Revusiran's sales in future years, since the latter is also delivered as a subcutaneous injection. However, Patisiran is expected to remain unaffected because it is administered intravenously.