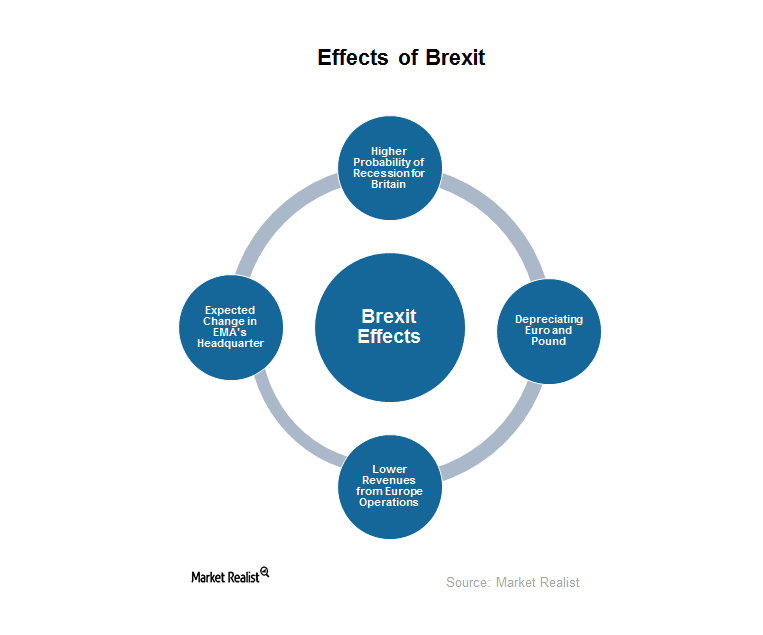 Effects of Brexit on Pharmaceuticals and the Biotechnology Industry
What's Brexit?
On June 24, 2016, there was a historic decision—the United Kingdom voted to leave the European Union. Following the decision, global markets experienced a shock. The United Kingdom's prime minister, David Cameron, announced his resignation after the Brexit vote. He admitted that the country needed "fresh leadership."
It's important for investors to understand the possible effects of Brexit on pharmaceuticals and biotechnology companies.
Article continues below advertisement
Brexit's impact on the pharma and biotech industry
First, the global big pharmaceutical companies that have major exposure to Europe will be impacted significantly. The depreciating euro will have a negative impact on translated sales to these global companies. Similarly, the pricing and reimbursement environment would fuel difficulties.
However, for big pharmaceutical companies such as GlaxoSmithkline (GSK) which is based in the United Kingdom, the depreciating domestic currency would boost its earnings. Glaxo's global sales will get translated to the pound—the depreciating currency. This would lead to higher earnings for the company. Another challenge for the industry would be a different drug approval process for the United Kingdom.
The European Medicines Agency is a regulatory authority for drug approval in the European Union. It's based in London. It will have to move its headquarters following Brexit.
Alexion Pharmaceuticals (ALXN), BioMarin (BMRN), and Amgen (AMGN) fell by 9%, 8%, and 4%, respectively, on the day that Brexit became a reality. Major exposure to the European market is the reason why these biotechnology companies fell.
If you are risk averse, you can opt for ETFs because they provide diversified exposure to equities. If you invested in ETF such as the iShares NASDAQ Biotechnology Index (IBB), you might have faced a 5% decline on June 24, 2016.