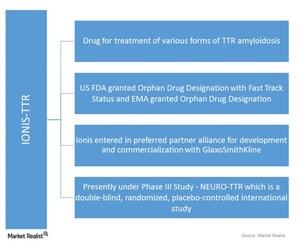 What's Ionis Pharmaceuticals Doing with IONIS-TTR?
By Mike Benson

Apr. 18 2016, Updated 8:06 p.m. ET
IONIS-TTR
Ionis Pharmaceuticals' (IONS) IONIS-TTR is a drug designed to control and reduce the production of transthyretin (or TTR) in order to treat different forms of TTR amyloidosis. In March 2010, Ionis entered into a preferred partner alliance with GlaxoSmithKline (GSK) for the development and commercialization of IONIS-TTR.
The company has classified IONIS-TTR as a drug for severe and rare therapeutic areas. It's in Phase III clinical studies for the treatment of familial amyloid polyneuropathy and TTR amyloid cardiomyopathy.
Article continues below advertisement
What is TTR amyloidosis?
TTR amyloidosis is a severe, rare, progressive, and fatal disease with multiple overlapping clinical manifestations. TTR amyloidosis has three types, including familial amyloid polyneuropathy (or FAP), familial amyloid cardiomyopathy (or FAC), and wild-type TTR amyloidosis. All these are due to inappropriate formation and aggregation of TTR amyloid deposits in tissues and organs. These include heart, intestinal tracts, eyes, kidneys, central nervous system, and bone marrow. The TTR amyloid deposits lead to organ failure and eventually death of the patient.
Other details about IONIS-TTR
Below are some details about Ionis's drug IONIS-TTR:
IONIS-TTR has been granted Orphan Drug Designation with Fast Track Status by the FDA (U.S. Food and Drug Administration) for the treatment of patients with FAP. It has been granted Orphan Drug Designation by the European Medicines Agency.
In November 2015, Ionis reported positive data from the ongoing open-label extension study of Ionis-TTR for patients with FAP who have completed the ongoing Phase III study. Studies showed a reduction in TTR protein levels up to 92%, with a mean maximum reduction of 76% compared to a patient's TTR levels at entry in the Phase III study.
Currently, the Phase III study called NEURO-TTR is in process. The company estimates that it will report data for this study in 2017. This study is a Phase III, randomized, double-blinded, placebo-controlled, international study. The study duration is 15 months. Patients are treated with a dosage of 300 mg (milligrams) per week of Ionis-TTR or a placebo for comparison.
To divest risk, you can consider ETFs such as the iShares Russell 2000 ETF (IWM), which holds ~0.5% of its total assets in Ionis. You can also consider the SPDR S&P Biotech ETF (XBI), which holds ~1.2% of its total assets in Ionis. XBI also holds 2.1% of its total assets in Intercept Pharmaceuticals (ICPT), 2.0% in Seattle Genetics (SGEN), 2.0% in Amgen (AMGN), and 2.3% in Medivation (MDVN).
Next, let's take a look at Ionis Pharmaceuticals' volanesorsen and its clinical trials.