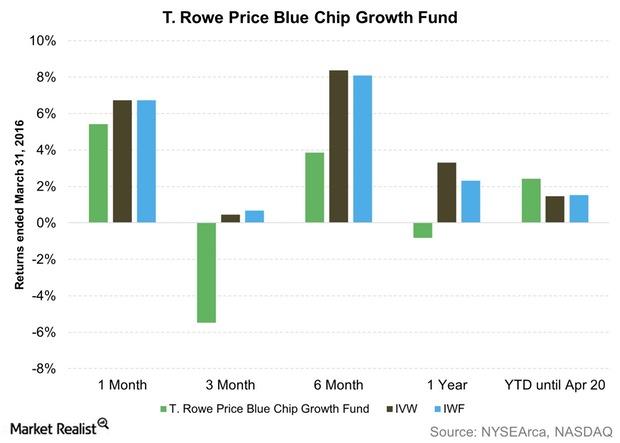 Why TRBCX Hasn't Seen a Great Start to 2016
By David Ashworth

Apr. 25 2016, Published 4:04 p.m. ET
Performance evaluation of the T. Rowe Price Blue Chip Growth Fund
The T. Rowe Price Blue Chip Growth Fund (TRBCX) fell 5.5% in 1Q16, placing it as a below-average performer among the 12 funds chosen for this review. However, TRBCX fell only 0.8% for the one-year period ended March 2016, which placed it third among its peers.
Meanwhile, from December's end 2015 until April 20, 2016, the fund rose 2.4%. We have graphed its performance against two ETFs: the iShares S&P 500 Growth ETF (IVW) and the iShares Russell 1000 Growth ETF (IWF). Let's look at what contributed to the fund's below-average performance in 1Q16.
Article continues below advertisement
Portfolio composition and contribution to returns
Healthcare was primarily responsible for driving down TRBCX's returns in 1Q16. Alexion Pharmaceuticals (ALXN) was the biggest negative contributor to the fund's returns for the period. Valeant Pharmaceuticals International (VRX) and McKesson (MCK), among others, worsened the returns from the sector. UnitedHealth Group (UNH) had little help in reducing the drag from the sector.
The second-most invested sector, consumer discretionary, was also the second-highest negative contributor to returns for 1Q16. Amazon (AMZN) was by far the biggest negative contributor from the sector. Negative contributions by Netflix (NFLX) and Royal Caribbean Cruises (RCL) were the only others worthy of a mention. O'Reilly Automotive (ORLY) didn't get much help in reducing the negative contribution.
Information technology, another core sector, was a sizable negative contributor, led by LinkedIn (LNKD). Facebook (FB) saved the sector from further blushes. Meanwhile, Morgan Stanley (MS) drove down financials.
Comparison with IVW
Total returns posted by IVW towered above those posted by TRBCX in 1Q16. The passive fund outclassed stock picks by the active fund in almost every sector. The reason that TRBCX didn't fare worse than it did was that the extent of its underperformance compared to IVW was lower than some of the other funds in this review.
Investor takeaway
TRBCX has a hard time in 2016 so far. However, its quantitative metrics are good in the long term. Existing investors may want to persist with their investments. New investors may consider this fund to be part of the core of their US equity portfolios, around which they can add funds pursuing active and passive strategies.
In the next article, we'll take a look at the Invesco American Franchise Fund Class A (VAFAX).