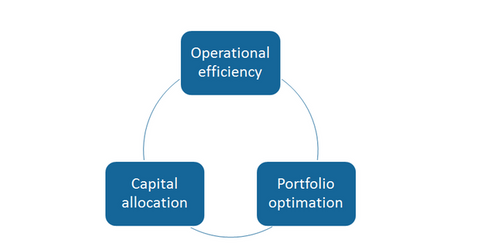 Strategic Initiatives Driving Baxter's Margin Expansion Goal
By Sarah Collins

Updated
Strategic overview
Baxter International (BAX) witnessed a series of changes in 2015, including a change in management, operational structure, and the establishment of a new strategic framework. In October 2015, José Almeida—the former CEO of Covidien, which was acquired by Medtronic in January 2015—was appointed Baxter's CEO.
Almeida succeeded Robert Parkinson, who had headed the company for more than a decade, and so far Almeida has been successfully leading the company through a structural shift, after the company's biosciences division spin off into Baxalta, triggering a change in the company's focus toward profitability and margin expansion. Consequently, the company has put in place a strategic framework focused on portfolio optimization, operational efficiency, and capital allocation. Baxter aims to achieve a ~100 basis point margin improvement every year for the next five years.
Article continues below advertisement
Operational efficiency
Baxter has shown strong recovery after the Baxalta spin-off weighed down the profitability of the company. The 3Q15 profits were low, which triggered various cost-cutting measures including planned layoffs and expenditure streamlining.
Although Baxter's margins continue to be impacted by foreign exchange, competition surrounding Cyclophosphamide and pension expenses, significant cost savings are expected in 2016. The company expects a ~2% improvement in SG&A (selling, general, and administrative) expenses and a 0.6% improvement in R&D (research and development) expenses.
Operational expenses are estimated to be 100 basis points lower as a result of these operational efficiencies, and the company's operating margins are estimated to be approximately 11%. Still, in 2015, though Baxter has witnessed better than estimated growth and profitability, the company lagged behind industry peers Becton Dickinson (BDX), C R Bard (BCR), and ResMed (RMD), which registered profit margins of ~12.2%, ~17.9%, and ~20.7%, respectively.
Article continues below advertisement
Portfolio optimization
Baxter has established a comprehensive portfolio review initiative, which aims to identify the opportunity areas for margin expansion and to categorize the businesses on the basis of future potential and financials, with the aim of accelerating investments in its most potentially profitable segments as well as across geographies. Innovations and products with high-end market growth are likely to be prioritized for investment.
One of such products is VIVIA, a home hemodialysis system for the treatment of end-stage renal disease patients. The product has been well received in Europe and is undergoing clinical trials in the US. Such areas of investment continue to be profitable for Baxter while other categories with lower margins or weak growth potential are likely to be identified for consolidation and reductions in investment.
Capital allocation
Baxter is expected to have significant cash flows from its cost containment and margin expansion initiatives, in addition to the 19.5% equity stake and $4 billion cash dividends the company received through the Baxalta spin-off on July 1, 2015. The company aims to invest these funds in reducing debt and pension liabilities, in distributing dividends, and in small-scale strategic mergers and acquisitions.
The iShares US Healthcare ETF (IYH) has exposure to Baxter, which accounts for approximately 0.8% of IYH's total holdings.
Continue to the next part for a more detailed discussion of Baxter's recent spin-off.