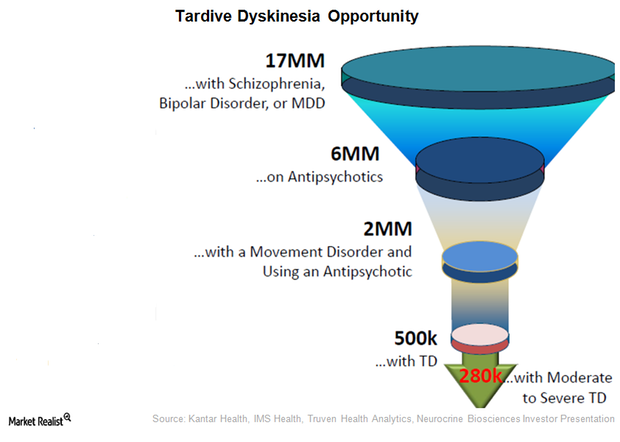 Neurocrine Biosciences' Valbenazine Launch: What You Need to Know
Valbenazine launch
Based on positive results from Phase 3 clinical trials testing efficacy and safety for patients with tardive dyskinesia or TD, Neurocrine Biosciences (NBIX) expects to submit a new drug application to the FDA for Valbenazine in 2016. The company has also allocated funds of $22 million–$25 million from pre-commercialization activities such as market research, creating awareness, and health economics.
Neurocrine Biosciences expects to launch this drug in the US market in 2017. Plus, it has a licensing agreement with Mitsubishi Tanabe Pharma Corporation to develop the drug and expand in some Asian markets, including Japan.
Article continues below advertisement
Market opportunity
The above diagram shows the scale of future growth available for Valbenazine in the US market. About 500,000 people in the United States suffer from TD while 280,000 patients suffer from a moderate to severe form of TD.
According to Medscape, tardive dyskinesias "are involuntary movements of the tongue, lips, face, trunk, and extremities that occur in patients treated with long-term dopaminergic antagonist medications. Although they're associated with the use of neuroleptics, TDs apparently existed before the development of these agents. People with schizophrenia and other neuropsychiatric disorders are especially vulnerable to TDs after exposure to conventional neuroleptics, anticholinergics, toxins, substances of abuse, and other agents."
If the drug gets FDA approval, Valbenazine could also present strong competition to Teva Pharmaceuticals' investigational drug SD-809. Plus, if Neurocrine Biosciences manages to become a leader in the TD market, it would boost the First Trust NYSE Arca Biotechnology Index Fund (FBT). Neurocrine Biosciences makes up about 3% of FBT's total portfolio holdings.
New research
Neurocrine Biosciences is also exploring the use of Valbenazine for patients with Tourette's syndrome (or TS), which affects about 400,000 people in the United States. About 250,000–300,000 of these patients display moderate to severe TS-related symptoms. According to the National Institute of Neurological Disorders and Stroke, Tourette's syndrome "is a neurological disorder characterized by repetitive, stereotyped, involuntary movements and vocalizations called tics."
Based on the drug's strong clinical profile, Neurocrine Biosciences may continue to trade at higher valuations than peers like Ionis Pharmaceutical (IONS), Horizon Pharma (HZNP), and Mallinckrodt (MNK).