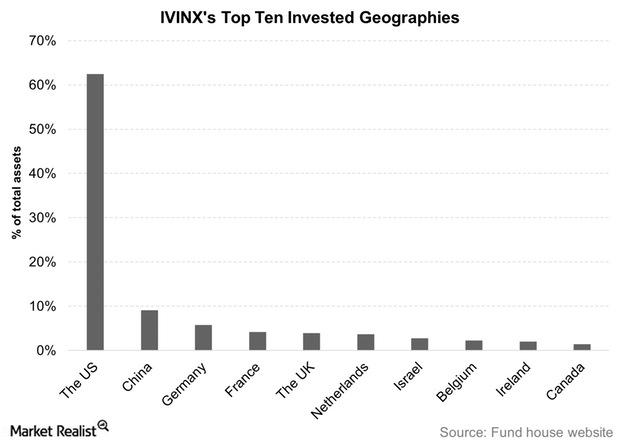 What Is the Ivy Global Growth Fund's Strategy?
By David Ashworth

Mar. 10 2016, Published 11:39 a.m. ET
Ivy Global Growth Fund
Unlike some of the funds in this review, the Ivy Global Growth Fund invests in US stocks apart from those of foreign issuers. The fund manager looks for companies that she believes, "are competitively well-positioned, gaining market share, have the potential for long-term growth and/or operate in regions or countries that possess attractive growth characteristics." The fund is managed by Sarah Ross.
Article continues below advertisement
The fund has a large-cap bias though it can invest in companies of any size. Fund literature states that normally 40% of the fund's assets are invested in stocks of foreign issuers. At any point in time, the fund aims to remain invested in at least three countries and holds 50–70 stocks. Bottom-up stock selection is followed by top-down global economic analysis.
Portfolio composition
According to information provided by the fund house, healthcare was the single-largest sectoral holding of the fund and formed 25.2% of the February 2016 portfolio. Information technology and consumer discretionary, in that order, were the second and third, and formed a combined 42.4% of the portfolio. Industrials and consumer staples rounded off the top five sectors with the highest weights. The fund was not invested in the materials and utilities sectors.
Stocks from the US formed 62.5% of the fund's assets for February, making it the geography with the highest weight. China followed, forming 9.1% of the portfolio. Germany, France, and the UK, in that order, rounded off the top five countries with the highest weights.
Visa (V), Amazon (AMZN), Carnival (CCL), HCA Holdings (HCA), and Tencent Holdings (TCEHY) were among the fund's 56 holdings as of the end of February. As of February 2016, the fund was managing assets worth $473.4 million.
Fees and minimums
The Ivy Global Growth Fund – Class A (IVINX) was incepted in April 1986 and has an expense ratio of 1.5%. There is a minimum requirement of $750 to invest in this fund via Class A shares. There is no minimum limit on subsequent investments. The fund can charge a maximum sales charge of 5.8% of the offering price on the purchase of Class A shares.
In the next article, we'll look at some of the key metrics of the fund's performance in the one-year period ended February 2016.