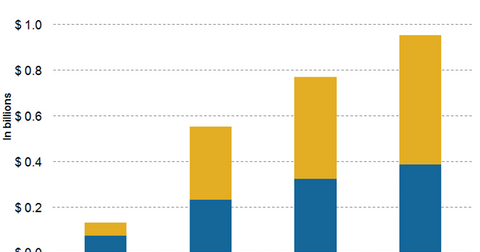 Demand for Hemophilia Drugs Could Grow Biogen's Revenue in 2016
By Margaret Patrick

Updated
Biogen's hemophilia drugs
In 2016, Biogen Idec (BIIB) expects strong growth in demand for Eloctate, its hemophilia drug. New patient adds are expected to stabilize for its other hemophilia drug Alprolix. Eloctate is expected to be adopted by more hemophilia patients who require long-acting therapies.
Biogen also believes that the rapid uptake of Alprolix in the market may have already exhausted a substantial portion of the drug's demand. To understand the revenue growth trajectory of Alprolix and Eloctate, please refer to Biogen's Hemophilia Portfolio: Growing Market Share in 2Q15.
Article continues below advertisement
Wall Street analysts have projected Alprolix's revenues to be $325.4 million in 2016, a rise of 38.7% on a year-over-year (or YoY) basis. However, for 2017, analysts have projected Alprolix's YoY revenue growth rate to decline to 19.7%. Eloctate sales are estimated to be about $446.7 million in 2016, which is a YoY growth of 39.7%.
New growth opportunities
On November 24, 2015, Biogen's Elocta, the European trade name for Eloctate in the United States, and Swedish Orphan Biovitrum AB (or SOBI) were approved by the European Medicines Agency (or EMA). They were approved for the treatment of patients with hemophilia A in the European Union. According to a Biogen press release, "ELOCTA is the trade name for rFVIIIFc in Sobi's territory, which is also approved under the name ELOCTATE [Antihemophilic Factor (Recombinant), Fc Fusion Protein] for the treatment of haemophilia A in the U.S., Canada, Australia, New Zealand and Japan."
With Sobi marketing Eloctate in additional markets, sales of the drug are expected to rise in 2016. Eloctate is expected to be tough competition for other hemophilia drugs such as Pfizer's (PFE) Xyntha, Baxalta's (BXLT) Advate, and Novo Nordisk's (NVO) NovoSeven.
New research
At the 57th American Society of Hematology Annual Meeting in December 2015, Biogen presented additional data that reaffirmed the efficacy of Alprolix and Eloctate in reducing overall bleeding in patients suffering from severe hemophilia A and B.
This research is further expected to boost Eloctate sales in future years. It's also expected to have a positive impact on share prices of the PowerShares Dynamic Pharmaceuticals ETF (PJP), as Biogen accounts for 4.3% of PJP's total portfolio holdings.