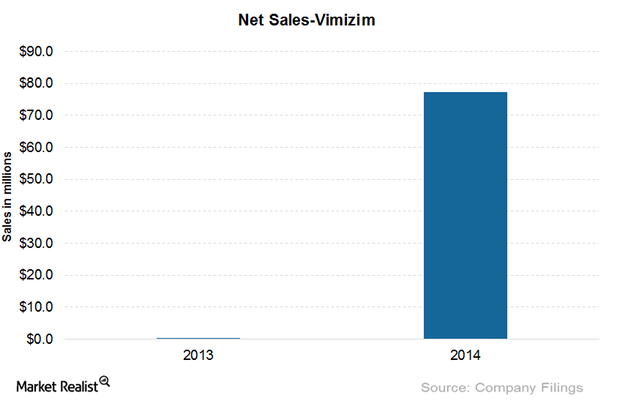 Vimizim: A Recent Addition to BioMarin's Portfolio
By Jillian Dabney

Jan. 13 2016, Updated 10:06 a.m. ET
Vimizim for mucopolysaccharidosis IV Type A
In 2014, Vimizim (or elosulfase alfa) received marketing approval by the FDA. This was followed by the approval of the European Medicines Agency (or EMA) for the treatment of mucopolysaccharidosis IV Type A, or MPS IV A.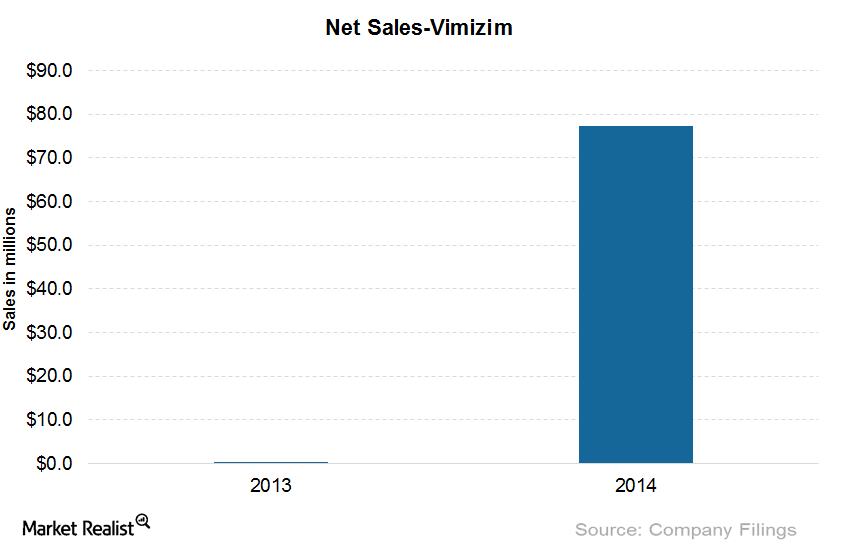 Article continues below advertisement
Vimizim is a major revenue driver for BioMarin
The graph above reflects net revenue from Vimizim. Along with the growth in new patient numbers, BioMarin (BMRN) is also witnessing rising demand for the drug. BioMarin has received price and reimbursement approvals in Italy, France, Germany, the United Kingdom, Japan, and secondary markets. This would enhance market penetration for Vimizim.
Following higher demand and more market penetration, BioMarin has raised the annual revenue guidance for 2015 to $220–$235 million. The company further anticipates revenues from the drug to cross $300 million in 2016. BioMarin has priced the drug at $1,068 per vial.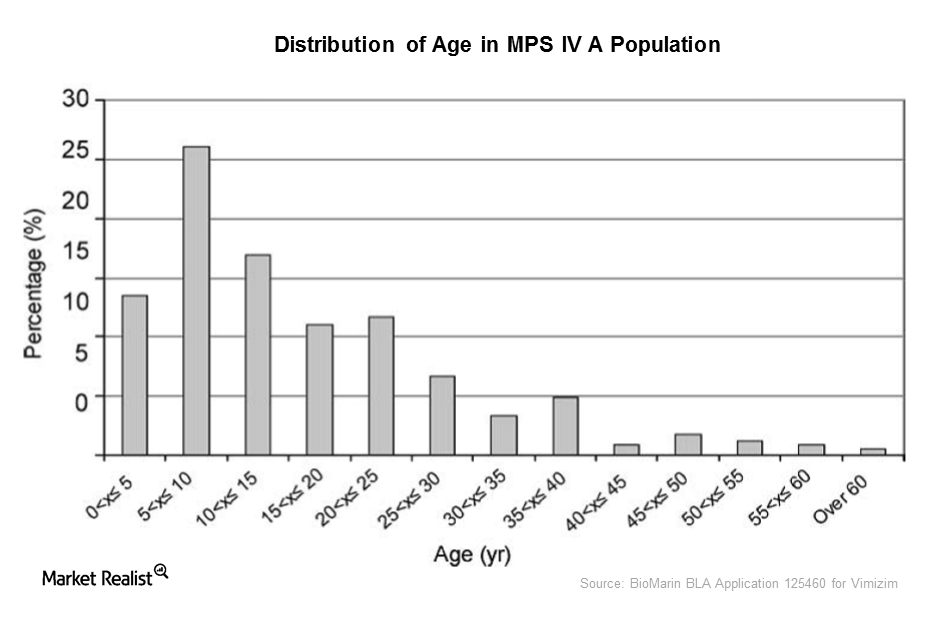 The above graph depicts the population distribution for Mucopolysaccharidosis IV A. Most patients don't survive beyond the 30s.
Overview of mucopolysaccharidosis IV A
Mucopolysaccharidosis IV A is also called Morquio A syndrome. It's caused by a deficiency in N-acetylgalactosamine-6-sulfatase (or GALNS) lysosomal enzyme. This disorder mainly affects the skeletal system of the body. Other common symptoms of the disease include abnormalities such as short stature, knock knees, coarse facial features, and heart valve abnormalities. The disorder doesn't affect intelligence.
The mean life expectancy for patients suffering from MPS IVA is around 40 years. If the disease is in a milder form, the patient may survive beyond 60 years. The prevalence of MPS IVA is ~520 to 800 patients in the United States whereas incidence for the disease in the United States is ~1 in every 200,000–300,000 births. Though the target population for the disease is small, higher pricing fetches more revenue for the company. Major companies such as Novartis AG (NVS), Pfizer (PFE), and Sanofi SA (SNY) are focusing on building their orphan drug portfolios.
To avoid direct risk exposure, investors can opt for the iShares NASDAQ Biotechnology ETF (XBI). It holds 1.6% of its total holdings in BioMarin stock.