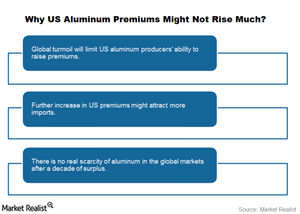 Two Factors that Could Put the Brakes on Rising US Aluminum Premiums
By Mohit Oberoi, CFA

Updated
US aluminum premiums
Previously, we've seen that US Midwest aluminum premiums have continued to strengthen in January on the back of strong demand and falling domestic production. Surely, the demand-supply situation bodes well for aluminum premiums. However, there are two factors that could put brakes on aluminum premiums and prevent them from rising much more.
Article continues below advertisement
Global market turmoil, the January 2016 mantra
Global markets have been in nothing short of turmoil in 2016. Most metal prices have hit fresh six-and-a-half year lows in the first month of the year and continue to trade with a negative bias. With global sentiments turning negative, US aluminum producers might not succeed in raising delivery premiums despite favorable demand-supply dynamics.
The looming threat of imports, the perennial mantra
Also, any further increase in US premiums will likely act as a catalyst for more imports, especially from China. This could act as a counterbalance to any further increase in aluminum premiums. Moreover, though the production cuts by US producers have created a "scarcity" of the metal in the US (VTI) (DIA), there's no real scarcity of the metal in global markets. (We'll explore this further in the next part of our series.)
Lower aluminum premiums are positive for aluminum fabricators like Constellium (CSTM), which have to pay the premium to take metal deliveries. However, primary aluminum producers like Alcoa (AA) and Century Aluminum (CENX) are negatively impacted by lower aluminum premiums. Notably, lower all-in aluminum prices, which include the aluminum price and physical delivery premiums, had a negative impact of $420 million on Alcoa's 4Q15 earnings. You can find out more about Alcoa's 4Q15 earnings in our series Alcoa's 4Q15 Earnings Topped Wall Street Estimates.
Continue to the next part of this series for a further analysis of global aluminum inventories.