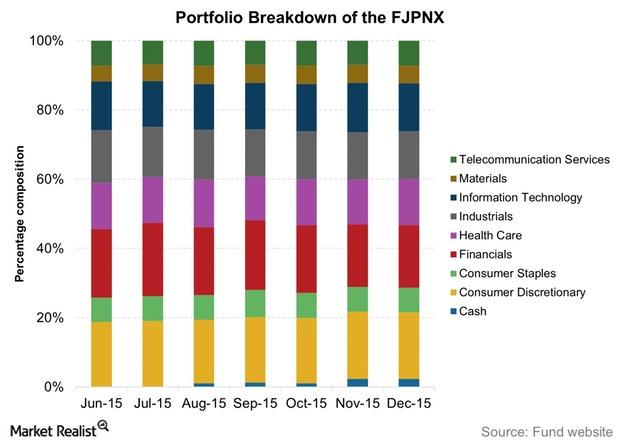 A Portfolio Scan of the Fidelity Japan Fund in 2015
By David Ashworth

Jan. 29 2016, Published 4:53 p.m. ET
Fidelity Japan Fund
The Fidelity Japan Fund (FJPNX) notes that it simply "seeks long-term growth of capital" by "normally investing at least 80% of assets in securities of Japanese issuers and other investments that are tied economically to Japan."
The fund house's investment approach looks at investing in companies that can improve their return on equity, and it aims to outperform its benchmark over a complete market cycle. For selecting stocks, the fund manager looks at relative valuation as well as the benchmark. This means that although the fund manager may not necessarily replicate the benchmark, he or she does look at its composition and valuation while making portfolio changes.
Article continues below advertisement
The Fidelity Japan Fund's (FJPNX) assets were spread across 86 securities as of December 2015 and it was managing $545.18 million in assets. As of November 2015, its equity holdings included Astellas Pharma, Inc. (ALPMY), ORIX Corporation (IX), Sony Corporation (SNE), Bridgestone Corp. (BRDCY), and Japan Airlines (JAPSY). The top ten holdings of the fund formed a third of its assets.
Historical portfolios
For this analysis, we will consider FJPNX's holdings as of November 2015, which is the latest available sectoral breakdown. The post-November holdings reflect valuation-driven changes to the portfolio, not the actual holdings.
Consumer discretionary and financials are the top two invested sectors, forming a combined 37% of the fund's portfolio. Information technology, healthcare, and industrials, in that order, round off the top five invested sectors of the fund. Exposure to these sectors is quite even and is in the range of 13.7%–14.7% each. The fund is not invested in energy and utilities.
Year-over-year, FJPNX's exposure to the consumer discretionary sector has continued to be reduced. Meanwhile, financials have broadly maintained their share from a year ago. Although the fund's overall exposure to discretionary stocks was reduced, the fund manager added securities from the sector in 2015. A few liquidations have also taken place, but the number of stocks from the sector has increased from a year ago.
Exposure to consumer staples, materials, and information technology stocks has increased over this timeframe As with financials, healthcare and industrials have maintained their respective shares.
Although most sectors have seen a change in portfolio composition at the stock level, the fund manager has not made any change to the holdings in the healthcare and telecom services sectors.
With this composition in mind, let's see how FJPNX performed in 2015 in the next article.