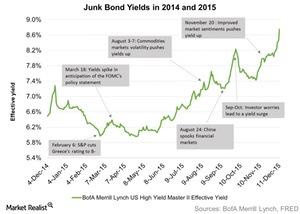 Clear Channel International: The Only Junk Bond Issuer in the Week Ending December 11
Pricing trends in the week ending December 11
Junk bond issuance activity tanked in the week ending December 11. The number of issues fell from seven in the previous week to one during the week.
Mutual funds such as the PIMCO High Yield Fund Class A (PHDAX) and the Fidelity High Income Fund (SPHIX) invest in junk bonds. The holdings of the PHDAX include Citigroup (C) and Lloyds Banking Group (LYG) while the SPHIX holds the junk bonds of Tenet Healthcare Corporation (THC) and Citigroup (C).
Article continues below advertisement
Only deal of the week
Clear Channel International B.V., an indirect and wholly owned subsidiary of Clear Channel Outdoor Holdings (CCO), is an international outdoor advertising company with operations primarily in Europe, Australia, New Zealand, and Singapore. It issued dollar-denominated junk bonds worth $225 million last week. The senior notes were rated B2/BB and YTM (yield to maturity) of 9%. The bonds will mature on December 15, 2020.
Clear Channel International intends to use the net proceeds of the notes for refinancing older debt.
In the previous week, Ball Corporation (BLL), Mednax (MD), HCA Holdings (HCA), and Aramark Services, an indirect and wholly owned subsidiary of Aramark (ARMK), were some of the issuers of junk bonds.
Continue to the next part of this series for a look at outflows and yields on bonds as of December 11.