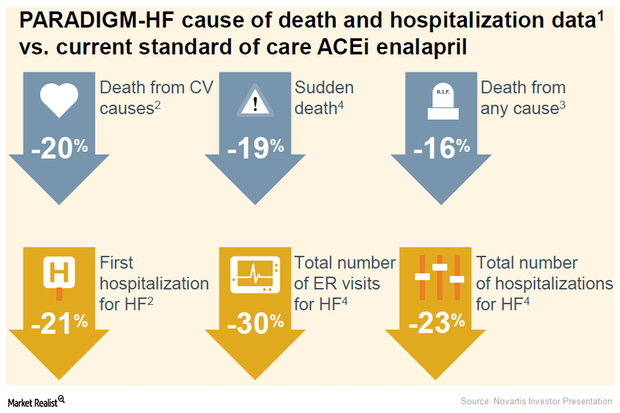 Clinical Trials Proved Entresto's Superior Efficacy Profile
By Margaret Patrick

Nov. 30 2015, Published 10:26 a.m. ET
Clinical trials
Novartis's (NVS) Entresto was approved on November 24, 2015, by the European Commission (or EC). On September 25, 2015, Novartis had received a positive opinion from the Committee for Medicinal Products for Human Use (or CHMP) in Europe. CHMP had recommended the approval of Entresto in Europe for patients suffering from symptomatic chronic heart failure and reduced ejection fraction (or HFrEF).
Article continues below advertisement
Trial results
The above diagram shows the results from the PARADIGM-HF study, comparing Entresto with angiotensin converting enzyme (or ACE) inhibitor therapy, enalapril, in head-to-head trial programs, which were submitted for EC approval. The study consisted of 8,442 HFrEF patients and was stopped early when it was proved that compared to enalapril, Entresto reduced the risk of death related to cardiovascular causes by 20%.
The trial demonstrated that as compared to enalapril, Entresto resulted in a reduction in sudden deaths by 19% and an overall reduction in mortality by 16%. Patients on Entresto therapy reported a 21% reduction in first hospitalization for heart failure as well as a 30% reduction in emergency room (or ER) visits for heart failures. Compared to enalapril, use of Entresto resulted in an overall reduction in total hospitalizations for heart failure by about 23%.
Currently, Entresto is also being studied in clinical trial programs for patients suffering from heart failure with preserved ejection fraction, acute heart failure, and coronary artery disease.
The significance of the clinical results
With Entresto displaying a significantly better clinical profile as compared to enalapril, it is expected to capture market share of ACE inhibitor drugs. In addition to Entresto, new cardiovascular drugs with strong clinical profiles such as Amgen's (AMGN) Repatha and Corlanor, as well as Sanofi (SNY) and Regeneron's (REGN) Praluent were launched in 2015.
Investors can invest in Entresto through Novartis, or reduce excessive exposure to company-specific risks by investing in the Pharmaceutical ETF (PPH). Novartis accounts for about 7.1% of PPH's total holdings.