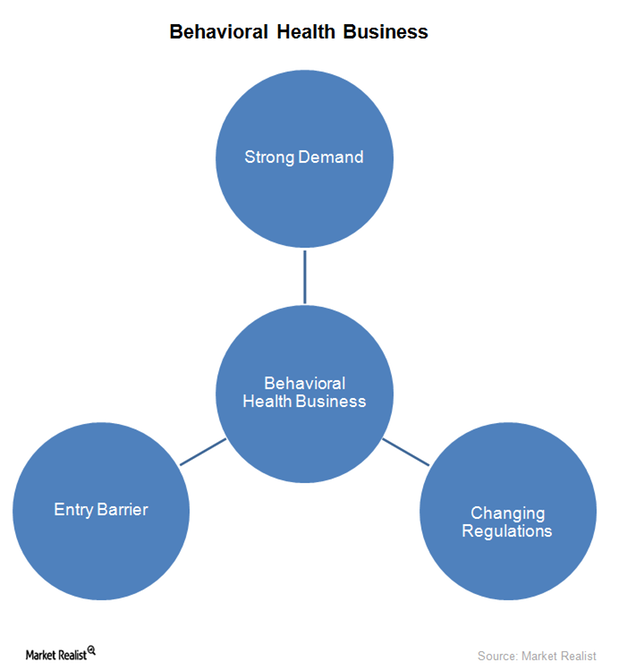 Universal Health Services' Behavioral Health Business in 3Q15
By Margaret Patrick

Nov. 20 2020, Updated 5:03 p.m. ET
Behavioral health business
In addition to improved acute care patient volume, Universal Health Services (UHS) is also expected to benefit from its leading market position in the behavioral health market in 3Q15. The company offers services such as acute inpatient healthcare, outpatient, as well as specialty behavioral services related to eating disorders, sexual trauma, and also residential treatment services.
Article continues below advertisement
Behavioral health market
Despite strong competition from for-profit hospitals such as HCA Holdings (HCA), Acadia Healthcare (ACHC), and LifePoint Hospitals (LPNT), Universal Health Services is expected to continue dominating the behavioral health market. Universal Health Service has adopted the strategy of gradually converting residential program beds to acute care beds. Though this will reduce the average length of patient stay in 3Q15, it's expected to boost revenues earned per day, per bed, potentially leading to optimal usage of bed capacity.
Strong demand
There is strong demand in the United States for mental health services, but limited capacity to satisfy this demand. As the stigma associated with mental illness fell, demand for behavioral health services further rose. Universal Health Services has capitalized on this trend by raising its bed capacity, mainly through acquisitions.
Article continues below advertisement
Entry barriers
Universal Health Services continues to enjoy high behavioral health margins due to entry barriers prohibiting other players in the industry. Unlike acute care services, where patient volume is driven by geography, behavioral health is driven by referral relationships. Since Universal Health Services appears to have good relationships with the sources of referrals such as schools and emergency rooms, other players find it difficult to penetrate the behavioral health market.
Changing regulations
According to the Substance Abuse and Mental Health Services Administration (or SAMHSA), "The Mental Health Parity and Addiction Equity Act (MHPAEA) of 2008 requires health insurers and group health plans to provide the same level of benefits for mental and/or substance use treatment and services that they do for medical/surgical care." As health plans increasingly implement this law, the rise in access to mental health patients is expected to drive Universal Health Services' revenues in the second half of 2015.
According to Medicaid.gov, "Under current law, treatment provided to adults in an institution for mental diseases with more than 16 beds is not reimbursable under Medicaid; this payment prohibition is known as the Medicaid institution for mental diseases", or IMD, "exclusion." Institution for mental diseases are now called freestanding behavioral hospitals. As care at the freestanding hospitals was not reimbursed, Medicaid patients chose to get themselves treated in behavioral health sections of acute care hospitals. However, on May 26, 2015, the Center for Medicare and Medicaid Services (or CMS) released a proposed ruling setting the background for waiving IMD exclusion. Expected to be effective in early 2016, this ruling will give Universal Health Services access to the adult Medicaid population previously treated by acute care hospitals.
The iShares Dow Jones US Health Care ETF (IHF) invests 3.0% of its portfolio in Universal Health Services.