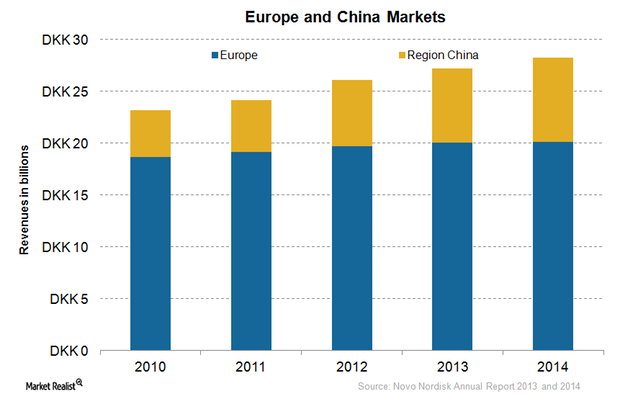 Novo Nordisk Benefits from Strong Presence in Europe and China
By Margaret Patrick

Oct. 8 2015, Updated 11:06 a.m. ET
Markets in Europe and China
Novo Nordisk (NVO) generates 22.7% of its total revenues from the European market. It's Novo Nordisk's second largest market. China, which accounts for about 9.1% of the company's total revenues, is proving to be a major growth contributor.
Article continues below advertisement
European market
Novo Nordisk has witnessed increased sales of its next-generation insulin therapies in Europe. These insulins include Tresiba (insulin degludec), Xultophy (insulin degludec and liraglutide), and modern insulin therapy NovoRapid.
However, the premix insulin and human insulin market has declined in Europe. As the European economy continues to face cost-containment pressures, governments have reacted by introducing pricing cuts on medicines and restricting access to them. This has negatively impacted Novo Nordisk's sales in Europe.
Victoza (liraglutide) is the market leader with 78% market share in the European glucagon-like peptide-1 (or GLP-1) analog diabetes therapy market. The drug faces tough competition from competing GLP-1 therapies such as AstraZeneca's (AZN) Byetta and Bydureon, Sanofi's (SNY) Lixumia, and Eli Lilly's (LLY) Trulicity.
On March 23, 2015, Novo Nordisk's anti-obesity drug Saxenda was approved by the European Commission in the European Union. Saxenda is expected to earn substantial revenues in the future.
Chinese market
According to estimates by the International Diabetes Federation, there are more than 99 million diabetes patients in China. With urbanization and subsequent sedentary lifestyles, the number of  diabetes patients is expected to rise more.
Novo Nordisk mainly earns revenue from its modern insulin therapies in China. About 98% of the company's total insulin volume in China is delivered through injectable pen devices such as NovoPen. Since the GP-1 class of drugs isn't reimbursed by the public healthcare system in China, it accounts for only 0.7% of the total diabetes market. Victoza is again a market leader with 58% share in the Chinese GLP-1 analog diabetes therapy market.
Investors can get diversified exposure to Novo Nordisk's European and Chinese markets and still control excessive risks by investing in the Vanguard FTSE All-World ex-US ETF (VEU). Novo Nordisk accounts for 0.38% of VEU's total holdings.