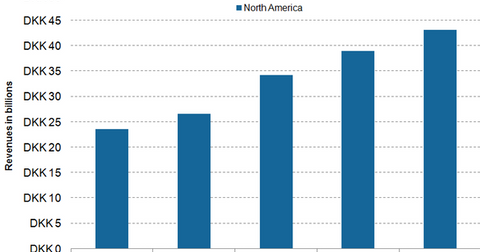 North America Is Still Novo Nordisk's Largest Market
By Margaret Patrick

Oct. 8 2015, Updated 8:06 a.m. ET
North American market
North America, which includes the United States and Canada, is Novo Nordisk's (NVO) largest market. It accounts for about 48% of the company's total sales.
US sales account for 90% of the total North America revenues. From 2010 to 2014, Novo Nordisk's total employees in the United States increased from 4,500 to 6,500.
The above graph shows that Novo Nordisk's revenues in North America grew at an annualized rate of 12.8% from 2010 to 2014.
Article continues below advertisement
Diabetes care market
Novo Nordisk's revenue growth driver in North America is the diabetes care market. Revenues have increased due to increased market penetration of the company's three modern insulin therapies as well as glucagon-like peptide-1 (or GLP-1) analog and Victoza (liraglutide).
Currently, the company accounts for 29% of the total diabetes market and 37% of the insulin market in the United States. As the total number of diabetes patients in the United States continues to grow, the insulin treatment market is also expected to see a rise in revenues.
Compared to 95% in Europe, only 46% of the total insulin volume in the United States is delivered through an injectable pen system. So there's also substantial opportunity in the US market for Novo Nordisk's improved insulin delivery pen devices. The US launch of Levemir in a new pen system called FlexTouch has already been very successful.
Victoza is the market leader with 68% market share in the US GLP-1 analog diabetes therapy market. Although Victoza continues to gain market share from competing GLP-1 therapies such as AstraZeneca's (AZN) Byetta and Bydureon, Sanofi's (SNY) Lixumia, and Eli Lilly's (LLY) Trulicity, the overall GLP-1 market in the United States is decelerating due to increased competition from a new class diabetes drug, SGLT-2.
Novo Nordisk's next-generation insulin therapy Tresiba was approved by the FDA (U.S. Food and Drug Administration) in the United States on September 25, 2015.
Other markets
Novo Nordisk's growth hormone therapy Norditropin has also received solid response in North America due to an improved drug delivery mechanism called FlexPro. Novo Nordisk initiated the injection device as well as physician- and patient-support programs. The company has also entered the US obesity market with Saxenda.
Investors can get diversified exposure to Novo Nordisk's North American market revenues and still control excessive risks by investing in the VanEck Vectors Pharmaceutical ETF (PPH). Novo Nordisk accounts for 5.05% of PPH's total holdings.