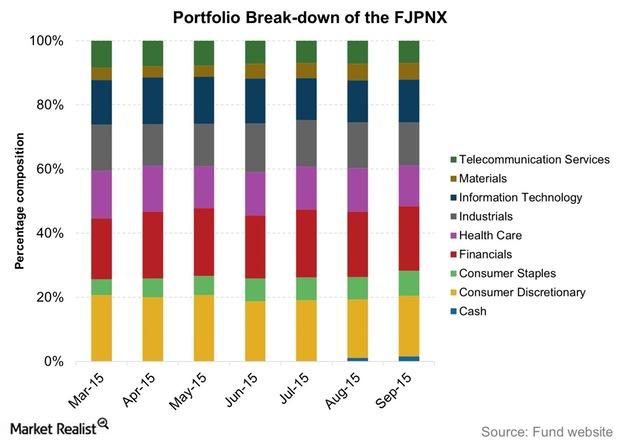 Assessing the Fidelity Japan Fund (FJPNX): Historical Overview
By David Ashworth

Oct. 26 2015, Updated 11:08 a.m. ET
An introduction
The Fidelity Japan Fund (FJPNX) simply "seeks long-term growth of capital," by "normally investing at least 80% of assets in securities of Japanese issuers and other investments that are tied economically to Japan."
The investment approach, as stated by the fund house, looks at investing in companies that can improve their return on equity, aiming to outperform its benchmark over a complete market cycle. In selecting stocks, the fund manager looks at a company's relative valuation as well as the benchmark. This means that, though the fund management may not necessarily replicate the benchmark, it does look at the benchmark's composition and valuation while making portfolio changes.
Here are a few key facts to consider about the Fidelity Japan Fund:
Article continues below advertisement
FJPNX's holdings are spread across 82 securities as of September 2015.
The fund was managing assets worth $503.35 million at the end of the same period.
Historical portfolios
For this analysis, we'll be considering holdings as of August 2015, as this is the latest sectoral breakdown available to us. The fund's holdings after August reflect valuation-driven changes to the portfolio, not the actual holdings. The sectoral portfolio composition for September 2015, which follows, has been taken from the information provided by the fund house:
Financials was the only sector making up over 20% of the fund's portfolio. Consumer discretionary is the other major sector in FJPNX's core portfolio.
A look at portfolios since September 2014 shows that exposure to the consumer discretionary sector was pared down over the following year. At the same time, the fund's exposure to consumer staples has nudged up a bit.
The fund's exposure to industrials increased from 9.4% in September 2014 to 13.4% in September 2015.
Materials stocks saw their share of the portfolio increase over the past year, whereas telecom services saw their shares reduced.
But how did the Fidelity Japan Fund perform in September 2015? Continue to the next part of this series to find out.