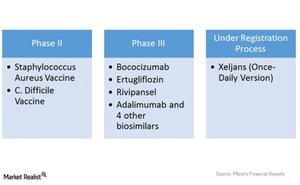 What's in Pfizer's Product Pipeline?
By Mike Benson

Updated
Drugs under development
Despite the lower revenue, Pfizer (PFE) continues to plow capital back into its research and development (or R&D) efforts for new drugs. If these drugs are approved and launched successfully, they will positively benefit the company's future revenue. The company's total R&D expenses were ~14.6% as a percentage of revenue in 2Q15 compared to ~13.8% as a percentage of revenue in 2Q14.
Ignoring the positive impact of foreign exchange on R&D expenses, there was a ~21% operational increase due to incremental investments in the late-stage pipeline, primarily for Bococizumab.
Article continues below advertisement
Research and development
Pfizer's key drugs and compounds under development include:
Bococizumab, a potential drug for reducing low-density lipoprotein cholesterol in patients with hypercholesterolemia, is under phase three clinical trials.
Ertugliflozin, an anti-diabetic drug that lowers blood glucose levels, is under phase three clinical trials.
A vaccine for immunization against staphylococcus aureus bacteria, which causes skin infections, respiratory infections, and food poisoning, is under phase two development.
A vaccine for clostrium difficile, a type of infection due to prolonged used of antibiotics in older adults, is under phase two development.
The supplementary new drug application for a modified dosage version of Xeljans, which is to be consumed only once in a day, has been accepted by the FDA (Food and Drug Administration).
Rivipansel, a drug for the treatment of vaso-occlusive crisis in hospitalized patients with sickle cell disease, is under phase three clinical trials.
Adalimumab, a biosimilar for the treatment of psoriasis, rheumatoid arthritis, and Crohn's disease, is under phase three clinical trials.
Apart from Adalimumab, there are four other monoclonal biosimilars in phase three development for Pfizer.
The phase two and phase three drugs will undergo the registration process once the clinical trials have satisfactory outcomes. If the company gets approval for a specific drug, it can then be sold for use as detailed in the final approval label granted by the regulatory authority, which is the FDA in the US and the European Agency for the Evaluation of Medicinal Products (or EMEA) in Europe.
Drugs in the late-stage pipeline are of great importance to the future growth and revenues of pharmaceutical companies. Drugs like Bydureon Pen and Lesinurad by AstraZeneca (AZN), Praluent and Iixisenatide by Sanofi (SNY), and Nucala for GlaxoSmithKline (GSK) are in late-stage development for different therapeutic areas. The Health Care Select Sector SPDR ETF (XLV) is focused on pharmaceuticals and healthcare companies.