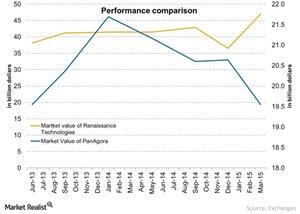 A Structural Analysis of PanAgora and Renaissance Technologies
By Ivan Kading

Updated
PanAgora asset management
PanAgora and Renaissance Technologies are both investment management firms that use a quantitative-based investment approach. PanAgora's principle investment strategy focuses on creating a model that produces attractive risk-adjusted returns for its investor by having a systematic approach to investing that combines intuitive, fundamental thinking with quantitative techniques.
Article continues below advertisement
PanAgora's investment approach
In order to achieve its objective, PanAgora has defined various strategies such as alternatives, risk premia, and active equity strategies. Each of these strategies is incorporated into the fund's quantitative models to generate higher returns than the market. PanAgora's portfolio is focused primarily on information technology and finance stocks. The fund currently manages assets worth of $19.67 billion. The fund has recently increased its exposure to General Dynamics (GD), Aetna (AET), and Dr. Pepper Snapple Group (DPS).
Renaissance Technologies
On the other hand, Renaissance Technologies is an investment management company dedicated to producing superior returns for its clients and employees by adhering to mathematical and statistical methods. It currently manages a total investment of $46.96 billion and is majorly invested in the information technology, finance, and healthcare sectors. E-commerce giant Amazon (AMZN) and pharmaceuticals firm Gilead Sciences (GILD) are the top buys for Renaissance this season. These stocks also represent a major part of the iShares Russell 1000 ETF (IWB).
Renaissance Technologies' top ten holdings constitute about 15% of its total portfolio. Apple (AAPL) single-handedly represents around 4% of the fund's portfolio.