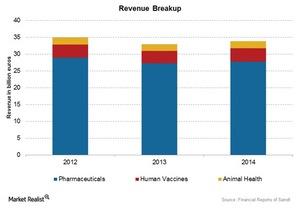 What Are Sanofi's Associated Business Segments?
By Mike Benson

Updated
Business segments
As discussed earlier, the Sanofi (SNY) group is a group of companies organized around three business segments as follows:
pharmaceuticals via Sanofi contributed over 82% of the total revenues in 2014
human vaccines via Sanofi Pasteur contributed ~11.8% of the total revenues in 2014
animal health via Merial contributed over 6% of the total revenues in 2014
Article continues below advertisement
The pharmaceuticals segment
The pharmaceutical segment deals with various products that are grouped under the key fields of diabetes solutions, rare diseases, multiple sclerosis, oncology, thrombosis and cardiovascular disease prevention, nephrology, and biosurgery. Sanofi has also included the consumer healthcare and generics business in this segment.
Human vaccines
Sanofi Pasteur is the vaccines division of Sanofi. This division offers a broad range of vaccines, and had provided more than a billion doses of vaccines in 2014 to over 500 million people worldwide. Sanofi Pasteur is a leader in the vaccines industry in terms of sales. For the US markets, the company is a leading producer of influenza and meningitis vaccines.
In European markets, Sanofi Pasteur MSD, a joint venture with Merck & Co, develops and markets vaccines. Sanofi Pasteur MSD distributes both Sanofi Pasteur's vaccines as well as Merck's vaccines in 19 European countries.
Sanofi Pasteur is a key supplier to agencies like UNICEF, the Pan American Health Organization (or PAHO), and the Global Alliance for Vaccines and Immunization (or GAVI).
Article continues below advertisement
Animal health
Merial, the animal health company of Sanofi, is one of the world's leading animal healthcare companies. Merial is dedicated to the research, development, manufacture, and marketing of the innovative pharmaceutical products and vaccines used by veterinarians, farmers, and pet owners. Merial offers a full range of products to enhance the health, wellbeing, and performance of a wide range of animals, including both companion animals and production animals. The range of products include parasiticides, anti-infectious drugs, other pharmaceuticals like anti-inflammatory agents and anti-ulcer agents, as well as vaccines.
The Health Care Select Sector SPDR ETF (XLV) is focused on the pharmaceutical segment, and has invested ~9.5% in Johnson and Johnson (JNJ), ~7.3% in Pfizer (PFE), and ~5.7% in Merck and Company (MRK). Investors can choose other ETFs like the iShares US Healthcare ETF (IYH) for diversification in pharmaceuticals and healthcare companies.