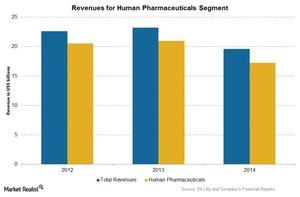 Eli Lilly and Company Focuses on Human Pharmaceuticals
By Mike Benson

Jul. 8 2015, Updated 8:06 a.m. ET
Human pharmaceutical segment
As discussed earlier, Eli Lilly and Company (LLY), also referred as "Lilly," is a US pharmaceutical company. It gets a large portion of its revenue from the human pharmaceutical segment. In the segment, Lilly deals with different therapeutic areas including endocrine, neuroscience, oncology, cardiovascular, and others.
Article continues below advertisement
Key products
Lilly recorded direct sales of over $1 billion for each of its seven human pharmaceutical products in the past year. The products include:
Humalog
Humulin
Forteo
Cymbalta
Zyprexa
Alimta
Cialis
The drugs Humalog and Humulin are classified under the endocrine franchise. They're prescribed to people with diabetes. Humalog is a fast-acting form of insulin that lowers the level of sugar in the blood, while Humulin is a long-acting form of insulin. The drug Forteo is a man-made form of the hormone called "parathyroid." It's used to treat osteoporosis in men and women who have a high risk of bone fracture.
The drugs Cymbalta and Zyprexa are classified under the neuroscience franchise. Cymbalta is a selective serotonin and norepinephrine reuptake inhibitor antidepressant that's used to treat major depressive disorder in adults. Zyprexa is an antipsychotic medication that affects chemicals in the brain. It's used to treat the symptoms of psychotic conditions like schizophrenia and bipolar disorder.
The drug Alimta is a medication that interferes with the growth and spread of cancer cells in the human body. It's used for the treatment of non-small cell lung cancer. The drug Cialis is used for the treatment of erectile dysfunction and benign prostatic hyperplasia.
Research and development
Lilly's internal human pharmaceutical research is focused on core areas including cancer, diabetes, neurodegeneration, immunology, and pain. The company also collaborates with other academic institutions and research-based pharmaceutical and biotechnology companies to supplement its internal efforts for research and development.
Other companies like Pfizer (PFE), GlaxoSmithKline (GSK), Sanofi (SNY), Bristol-Myers Squibb (BMY), and AstraZeneca (AZN) compete with Lilly on certain product mixes. The Health Care Select Sector SPDR ETF (XLV) has invested ~2.9% in Lilly.