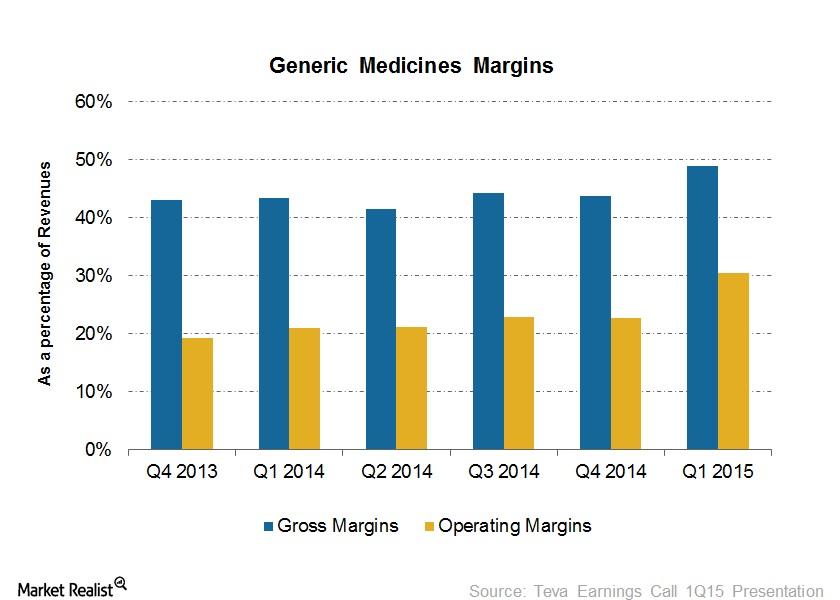 Why Teva's Generic Medicines Profitability Improved in 1Q15
Improved profitability in Europe
Teva's (TEVA) generic medicines profit experienced a notable increase of 59% to $799 million in 1Q15 from 1Q14. The segment's profit consists of gross profit, less sales and marketing (or S&M) and research and development (or R&D) expenses. This improvement is primarily due to improved gross margins and reduced R&D and S&M expenses.
Teva's gross margin improved to 49% in 1Q15 from 43.5% in 1Q14. This was mainly due to the launch of generic Nexium in the US and improved profitability in Europe.
In European countries such as Germany, the UK, and Italy, Teva reported impressive profitability due to:
stronger supply chain management
new product launches
improved pricing levels
Further, R&D expenses for the generic medicines were down 10% from 1Q14, and the company's sales and marketing expenses were down 17% from 1Q14.
Article continues below advertisement
Copaxone profitability declined
Teva's increased profitability for its generic medicines was partially offset by the decline in profitability of its specialty medicines. The company's specialty medicine profit was down by 13% in 1Q15 from 1Q14. This was primarily due to the decline in Copaxone's profitability, which fell by 15% to $657 million in 1Q15 from $774 million in 1Q14. This decrease resulted from lower global revenues of Copaxone.
The three major factors that led to this decline are:
In Russia, the company didn't go for a tender.
Europe had a negative foreign exchange impact.
The company experienced inventory management issues in the US.
The profitability of Copaxone is expected to decline further as generic competition increases.
Investors can gain access to the profitability derived through Teva's generics business by investing in pharmaceutical ETFs such as the iShares US Healthcare ETF (IYH). IYH has holdings in companies such as Actavis (ACT), Hospira (HSP), Mallinckrodt Plc (MNK), Impax (IPXL), and Perrigo (PRGO), which comprise ~5.38% of the fund's total holdings.