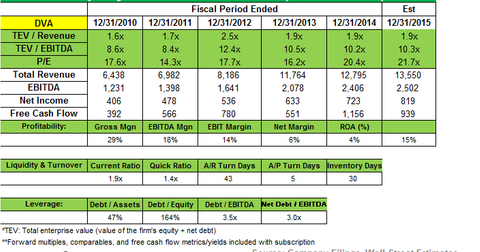 DaVita HealthCare Partners is New Stake in Lone Pine's Portfolio
By Samantha Nielson

Updated
Lone Pine adds new position in DaVita HealthCare Partners
Lone Pine initiated a new position in DaVita HealthCare Partners (DVA) last quarter, which accounts for 1.25% of the fund's total fourth quarter portfolio.
Article continues below advertisement
Overview of DaVita HealthCare Partners
DaVita operates two major divisions, Kidney Care and HealthCare Partners (HCP). Its largest business is the US dialysis and related lab services. DaVita is a major provider of kidney dialysis services in the US for patients experiencing chronic kidney failure, also known as ESRD. The other major line of business is HCP, which is a patient- and physician-focused integrated healthcare delivery and management company.
The US dialysis and related lab services business accounted for approximately 64% of DaVita's 2014 consolidated net revenues. It offers dialysis and administrative services in the US through a network of 2,179 outpatient dialysis centers in 46 states and the District of Columbia, serving approximately 173,000 patients.
Article continues below advertisement
ESRD dialysis patient population growth trend
DaVita cited the United States Renal Data System in its 2014 annual filing and noted a rise in the underlying ESRD dialysis patient population at a compound rate of 4.0% between 2000–2012. In its 10-K filing dated December 31, 2012, DaVita noted, "The growth rate is attributable to the aging of the population, increased incidence rates for diseases that cause kidney failure such as diabetes and hypertension, lower mortality rates for dialysis patients and growth rates of minority populations with higher than average incidence rates of ESRD."
DaVita and Fresenius Medical Care (FMCQF) account for around 71% of outpatient dialysis patients in the US, with DaVita serving approximately 35% of the total outpatient dialysis patients. DaVita accounts for 0.30% of the iShares Russell Midcap Value ETF (IWS). Its peers that comprise this ETF include HCA Holdings (HCA), with 0.71% exposure; Community Health Systems (CYH), with 0.19% exposure; and LifePoint Hospitals (LPNT), with 0.10% exposure. These stocks also make up ~11.09% of the iShares Dow Jones US Healthcare ETF (IYH).
DaVita's 4Q14 results beat estimates
DaVita posted fourth-quarter net earnings of $208 million, or $0.96 per share, compared with $212.3 million, or $0.99 per share, last year. Revenues came in at $3.33 billion, compared with $3.06 billion in the prior year.
The next part of this series will discuss the fund's new position in The Cooper Companies.