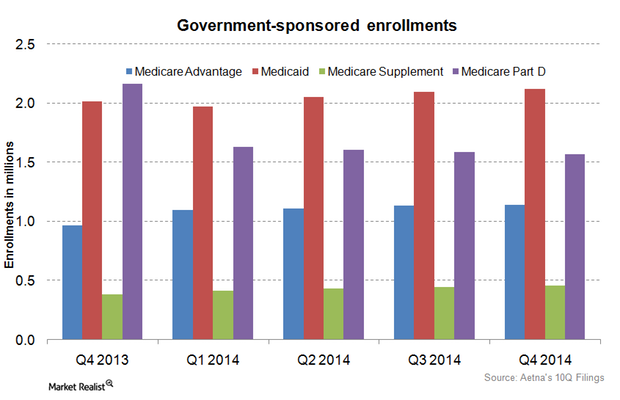 Star Ratings Increased Aetna's Government-Sponsored Business in 4Q14
Enrollments
Aetna (AET) earns about 38% of its revenue by providing health insurance services to government-sponsored enrollees.
MA (Medicare Advantage) is a substitute of the original Medicare plan. It's implemented by the private health insurance industry (XLV) in exchange for payments from CMS (Centers for Medicare and Medicaid Services).
In 2010, only 22% of Aetna's revenue was derived from its government-sponsored enrollments—like Medicare and Medicaid beneficiaries. In 2012, the company acquired Coventry Health to rebalance its portfolio and increase its exposure to the fast-growing government-sponsored segment. The deal added Medicare and Medicaid members. It helped the company increase its revenue and reduce its operating costs per enrollee. It distributed the administrative expenses over a wider base of members.
Article continues below advertisement
Aetna's MA enrollment increased by 172,000 year-over-year, or YoY, in 4Q14. The key driver of Aetna's MA membership growth has been the star ratings. MA plans offered by health insurance companies—like Aetna, Humana (HUM), Cigna (CI), and Wellcare Health Plans (WCG)—are rated on a scale of one to five. They're based on 36 criteria regarding quality. They're important for determining MA payment rates. About 69% of Aetna's Medicare members were enrolled in MA plans with four or more stars. This led to higher payments.
Medicare supplement plans provide coverage for expenses that aren't covered by the original Medicare—like copayments, deductibles, and coinsurance. To learn more about different types of payment, read Making sense of health insurance companies' payment options.
In 4Q14, Aetna served 462,000 seniors in Medicare Supplement products spread across 48 states and Washington DC.
Medicare Part D
Medicare Part D stand-alone plans provide coverage for prescription drugs. The plans witnessed a decline of 594,000 members YoY in 4Q14. This was mainly a result of members shifting from stand-alone prescription drug plans to MA plans combined with drug benefits.
Medicaid
Medicaid enrollments increased by 109,000 YoY in 2014. In 2014, Aetna entered into contracts with 15 states to provide Medicaid services. The company has also been selected to provide Medicaid services in Louisiana—beginning in February 2015.