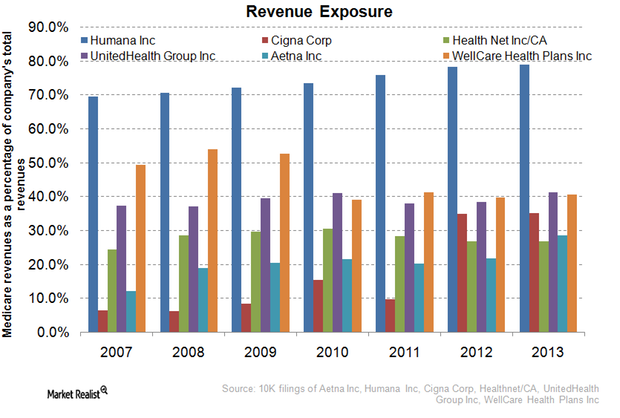 Why Medicare Advantage drives health insurance stocks
By Margaret Patrick

Feb. 10 2015, Updated 2:05 p.m. ET
Medicare advantage
Medicare Advantage (or MA) is a health insurance program offered by commercial insurance companies and managed care organizations, part of the healthcare industry (XLV), to Medicare beneficiaries. About 30% of total Medicare beneficiaries are enrolled in the Medicare advantage program.
The above graph shows the revenue exposure of major managed care organizations such as Aetna (AET), Humana (HUM), UnitedHealth Group (UNH), Cigna (CI), Health Net, and WellCare Health Plans to Medicare revenue. In 2013, UnitedHealth Group had the highest market share, at 37% of total Medicare advantage revenues, followed by Humana at 25.3% and Cigna at 5.9%.
Article continues below advertisement
MA payment
In the original Medicare program, the government pays for Medicare beneficiaries on a fee-for-service (or FFS) basis, paying according to a rate determined administratively called the "prospective payment rate." The same method continued for MA plans from 1997, when the program was introduced, until 2003, when Congress enacted the Medicare Modernization Act and introduced competitive bidding for reimbursing MA plans.
In this method, the government sets up a Medicare payment rate in the different geographical areas. MA plan providers in every geography submitted a bid quoting their price for providing the traditional Medicare services. When bids exceeded the Medicare reimbursement rate set by the government, the difference was collected from plan enrollees as higher premiums. If the bid was less than the government payment rates, the MA plan returned 75% of the difference to enrollees as higher benefits and lower premiums, while 25% was considered savings for the Medicare program.
The Affordable Care Act (or ACA) has based the Medicare payment benchmark on the costs incurred by traditional Medicare. Also, the rebates to enrollees when the competitive bid is less than the Medicare benchmark links to the star ratings of MA health plans. Star ratings are based on 36 criteria of quality for MA plans. For MA plans with the highest rating of five stars, a 70% difference applies as rebates, with the benefits gradually decreasing with a decrease in a plan's rating.