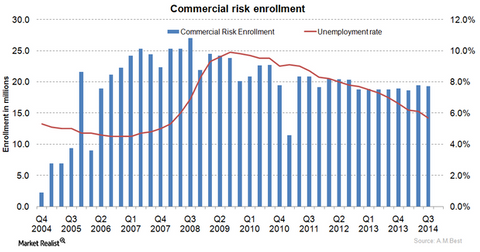 Why jobs are so essential to health insurance industry profits
By Margaret Patrick

Updated
Health insurance
The health insurance industry (XLV) is sensitive to changes in the employment rate. Employer-sponsored insurance accounts for about half of health insurance spending in the US.
Article continues below advertisement
Employer-sponsored coverage
A major percentage of employer-sponsored coverage comprises managed care plans, either with health maintenance organization (or HMO) plans or preferred provider organization (or PPO) plans. Both HMO and PPO plans have their selected network of healthcare providers, and claimants are expected to seek treatment in these networks. However, if a patient accesses an out-of-network provider, unlike a PPO plan, an HMO plan won't reimburse the claimant.
The above graph shows the HMO commercial risk-based enrollment figures, or HMO fully insured figures. The majority represents employer-sponsored coverage. Commercial risk-based insurance involves the insurance company taking full responsibility for enrollees' claims—as opposed to self-insurance or administrative services only (or ASO) insurance, where the insurance company is only responsible for administrative support to the plan sponsor.
The unemployment rate shows an inverse relationship with commercial risk-based enrollment. An increase in the unemployment rate leads to people losing their employment-sponsored coverage. However, after Q2 2012, you can see that despite the decline in the unemployment rate, enrollment hasn't increased substantially.
This trend is due to a shift from commercial risk-based insurance to ASO coverage, which is more cost-effective for employers. Since ASO plans have dominating the health insurance landscape, managed care organizations like Aetna (AET), Anthem (ANTM), Cigna (CI), and Humana (HUM) are recording declining profits per enrollee.