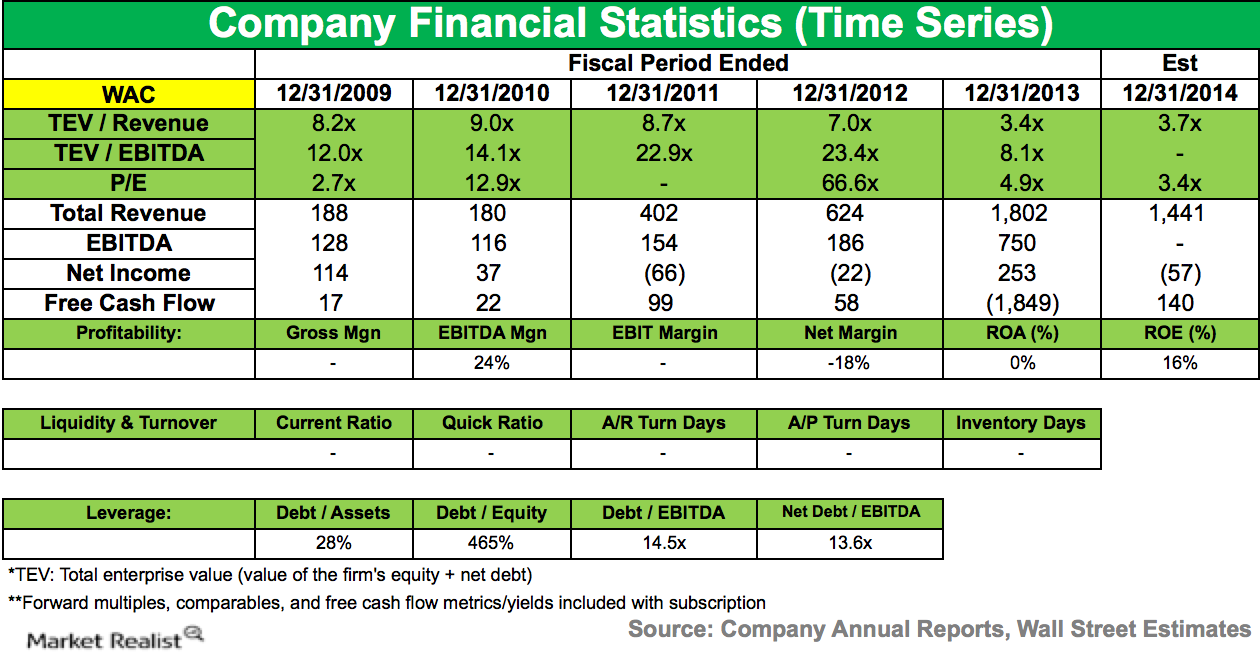 Point72 increases its position in Walter Investment Management
By Diana Key

Jan. 22 2015, Updated 12:56 p.m. ET
Point72 and Walter Investment Management
Point72 Asset Management added to its position in Walter Investment Management Corp (WAC). A 13G filing in January noted that the fund owns 2,400,100 shares. This is up from the 950,000 shares reported in the fund's 3Q14 portfolio. The filing said the fund owns a passive stake of 6.4% in the company.
Article continues below advertisement
About Walter Investment Management
Walter Investment Management is a fee-based services provider to the residential mortgage industry. The company focuses primarily on providing servicing for credit-sensitive forward mortgage loans and for reverse mortgage loans. Walter's servicing portfolio has significantly expanded, as it acquired many servicing assets in 2013. As of September 30, 2014, Walter serviced ~$2.3 million mortgage loans with ~$247.0 billion in unpaid principal balance (or UPB).
The company operates in six segments:
servicing
originations
reverse mortgage
asset receivable management
insurance
loans and residuals
3Q14 results
Walter Investment Management's revenue was $386.0 million, declining $103.2 million as compared to 3Q13. Servicing revenue declined year-over-year (or YoY) to $152.5 million due to the decrease in the fair value of mortgage servicing rights (or MSRs).
The company's originations revenue declined 21% YoY driven by lower locked volumes and a shift in funded volume mix from the consumer lending channel to the lower margin correspondent lending channel. Reverse mortgage revenue declined 10%, reflecting lower net fair value gains on reverse loans and related HMBS obligations.
Article continues below advertisement
Generally accepted accounting principles (or GAAP) net loss was $70.8 million, or $1.88 per diluted share. This net loss reflected the impact of the company's elevated tax rate resulting from the non-deductibility of the goodwill impairment charge taken by the reverse mortgage business in the second quarter. Adjusted earnings per share (or EPS) were $0.96.
In the third quarter, Walter modified terms for more than 15,000 customer loans and originated nearly 17,000 home affordable refinance program (or HARP) loans. In October, the company entered into agreements to acquire MSRs associated with ~$9 billion of UPBs.
Industry outlook
Management noted, "The current low rate environment is conducive to its strategy to maximize portfolio's retention opportunity. The market for prime MSR continues to be both strong and competitive. The broader mortgage market remains challenging as purchase money volumes continue to be subdued and the retail sector remains competitive. Active regulatory oversight of the sector continues and it is its expectation that in the current environment participants who have scale, are appropriately capitalized, are compliant with regulatory requirements, and have significant experience and a strong track record in transferring servicing assets will be best positioned to grow their business in the future."
For 2014, Walter Investment Management expects adjusted EPS to be ~$5.00.
Point72's 13G positions
Point72 Asset Management initiated positions in Jones Energy Inc. (JONE), MEI Pharma Inc. (MEIP), and Catalyst Pharmaceutical Partners, Inc. (CPRX).
The fund increased its positions in Silicon Motion Technology Corp. (SIMO), RCS Capital Corp (RCAP), Kindred Healthcare, Inc. (KND), Crocs, Inc. (CROX), LogMeIn Inc. (LOGM), Kraton Performance Polymers Inc. (KRA), and Walter Investment Management Corp (WAC).
The fund reduced its position in Clearwater Paper Corp (CLW) and Shutterfly, Inc. (SFLY).
In the next part of the series, we'll discuss Point72's position change in Clearwater Paper.