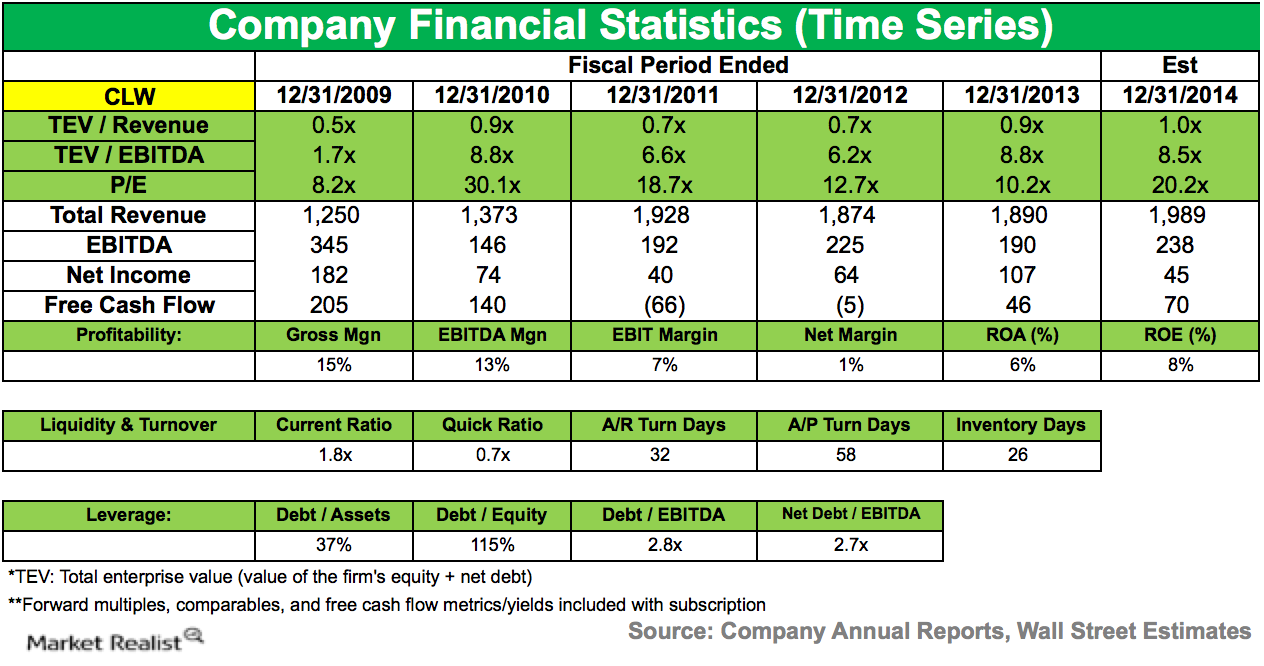 Point72 Asset Management lowers position in Clearwater Paper
By Diana Key

Jan. 22 2015, Updated 4:56 p.m. ET
Point72 and Clearwater Paper
Point72 Asset Management reduced its position in Clearwater Paper Corp (CLW). A 13G filing in January noted that the fund owns 1,136,457 shares. This is down from the 1,245,000 shares reported in the fund's 3Q14 portfolio. The filing said the fund owns a passive stake of 5.8% in the company.
Article continues below advertisement
Overview of Clearwater Paper
Clearwater Paper Corporation is a leading North American producer of private label tissue and paperboard products. The company is a premier supplier of private label tissue to major retailers and wholesale distributors. Quality-conscious printers and packaging converters use the company's bleached paperboard. Clearwater has 13 manufacturing locations in the US and Canada.
On December 30, the company sold its specialty products business and mills to Dunn Paper, Inc. Clearwater intends to reinvest the net proceeds of the sale into capital projects within its Consumer Products division. Clearwater expects that the reinvestment will yield a 300 to 400 basis point improvement in the Consumer Product division's earnings before interest, tax, depreciation, and amortization (or EBITDA) margins over the next three years.
Record revenue and adjusted EBITDA in 3Q14
The company reported revenue of $511.1 million, up 4.8% year-over-year (or YoY) primarily due to higher prices and volumes in both paperboard and tissue. Adjusted EBITDA for the quarter was $72.0 million, up 67.0% YoY, which was due to "strong paperboard markets and pricing as well as increased contribution from the company's through-air-dried, or TAD, expansion."
Generally accepted accounting principles (or GAAP) net income was $6.3 million, or $0.31 per diluted share compared to $13.3 million, or $0.60 per diluted share. Net income includes $15.8 million of after-tax debt retirement costs, $3.1 million of after-tax expenses associated with the closure of converting and distribution facilities, $0.1 million of after-tax benefit from directors' equity-based compensation, and $0.7 million of after-tax expense from costs associated with the optimization of the specialty paper group within the Consumer Products segment.
Excluding those items, adjusted net income was $25.7 million, or $1.28 per diluted share.
Article continues below advertisement
Share repurchase
During the third quarter, Clearwater repurchased 382,488 shares at an average price of $67.13 per share. The company completed a stock repurchase program of $100 million, which was announced in February 2014.
In December, the company's board of directors authorized the repurchase of up to $100 million.
Weaker fourth quarter outlook
Clearwater expects revenue to decline by 4% to 7% due to seasonality and relatively stable price mix for both tissue and paperboard. The company's projected EBITDA is in the range of $56 million to $64 million.
Point72's 13G positions
Point72 Asset Management initiated positions in Jones Energy Inc. (JONE), MEI Pharma Inc. (MEIP), and Catalyst Pharmaceutical Partners, Inc. (CPRX).
The fund increased its positions in Silicon Motion Technology Corp. (SIMO), RCS Capital Corp (RCAP), Kindred Healthcare, Inc. (KND), Crocs, Inc. (CROX), LogMeIn Inc. (LOGM), Kraton Performance Polymers Inc. (KRA), and Walter Investment Management Corp (WAC).
The fund reduced its position in Clearwater Paper Corp (CLW) and Shutterfly, Inc. (SFLY).
In the next part of the series, we'll discuss Point72's position change in Shutterfly.