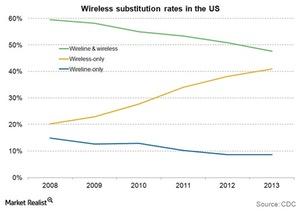 Investor must-know: Major trends in the wireline industry
By Ray Sheffer

Jan. 20 2015, Updated 10:13 a.m. ET
Wireline trends
The wireline voice segment continues to shrink with customers migrating to wireless and VoIP (Voice over Internet Protocols) services. Telecom companies are focusing on broadband for households. They want to alleviate cost pressures from a shrinking voice subscriber base.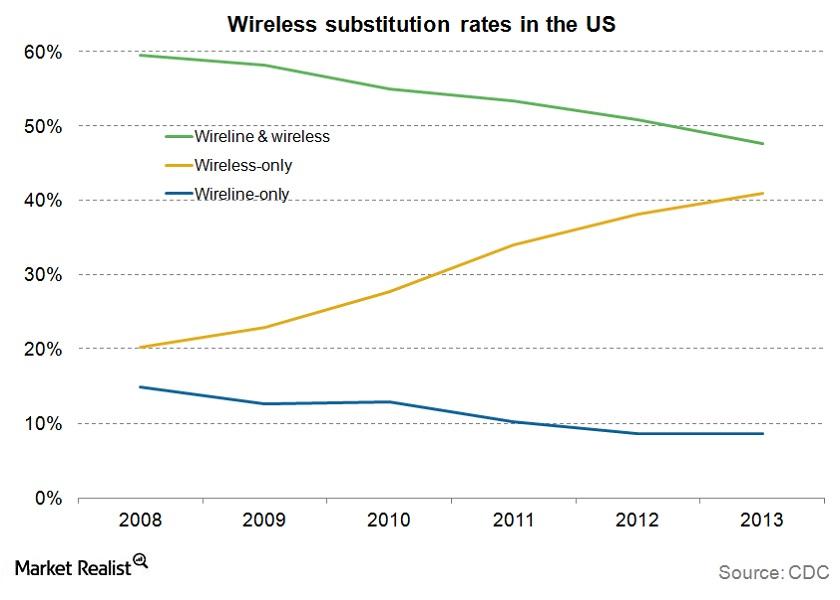 Article continues below advertisement
Wireless substitution
In US residential households, wireline and wireless voice services act as substitutes. You can see this in the above graph. After 2008, there has been a significant increase in wireless-only households. There has been a decline in wireline-only households. A substantial wireline subscriber base has migrated to wireless-only connections. The wireless substitution transformed the consumer wireline segment.
Triple play services 
Telecom companies are dealing with a declining share in wireline. As a result, they're offering bundled triple play services. Since the services require a high-speed broadband network to succeed, they're investing in fixed broadband. Particularly, they're focused on enhanced broadband that can deliver much higher speeds than traditional DSL (digital subscriber line). However, the pace of upgrading telecom companies' broadband network has been slow.
Article continues below advertisement
Fiber is a high-cost choice
Enhanced broadband requires fiber as a medium to provide fast internet speeds. Fiber in the last mile—FTTP (fiber-to-the-premises)—significantly increases Internet speeds—compared to copper. Most telecom networks use copper. Upgrading the last mile to fiber entails significant costs—especially for wireline telecom companies. They have to manage additional cost pressures from a smaller revenue stream. The fixed-voice subscriber base is shrinking.
Verizon (VZ) invested significantly in providing FiOS triple play services through FTTP to its customers. The high speed of FiOS broadband is comparable to cable companies—like Comcast (CMCSA), Time Warner (TWC), and Cablevision (CVC).
In contrast, AT&T (T) uses FTTN (fiber-to-the-node). It uses copper in the last mile. AT&T uses it, after its neighborhood node, to connect the network to the customer. It also uses enhanced DSL to provide high-speed broadband to its subscribers. Compared to FTTP, FTTN costs less in terms of initial deployment. It can be upgraded to FTTP later. However, FTTP can provide much faster Internet speeds than FTTN.