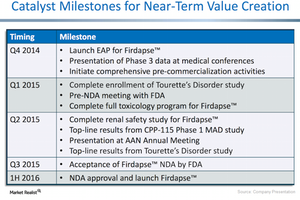 Point72 Asset Management adds position in Catalyst Pharmaceutical
By Diana Key

Jan. 19 2015, Updated 8:56 a.m. ET
Point72 and Catalyst Pharmaceutical
Point72 Asset Management started a position in Catalyst Pharmaceutical Partners, Inc. (CPRX). A 13G filing in December noted that the fund owns 3.5 million shares. The filing said the fund owns a passive stake of 5.1% in the company.
Article continues below advertisement
Overview of Catalyst Pharmaceutical Partners
Catalyst Pharmaceutical Partners is a development-stage biopharmaceutical company that focuses on the development and commercialization of innovative therapies for people with rare neuromuscular and neurological diseases. It has three pharmaceutical products in development:
Firdapse treats Lambert-Eaton Myasthenic Syndrome (or LEMS). Firdapse is the first and only European-approved drug for symptomatic treatment in adults with LEMS. It's currently undergoing testing in a global, multi-center, pivotal Phase 3 trial. It received "Breakthrough Therapy Designation" from the US Food and Drug Administration (or FDA).
CPP-115 treats infantile spasms and epilepsy, as well as other neurological conditions associated with reduced GABAergic signaling, like post-traumatic stress disorder and Tourette syndrome. The FDA has granted CPP-115 "US orphan drug" designation for the treatment of infantile spasms. The drug also has been granted EU orphan medicinal product designation for the treatment of West Syndrome by the European Commission.
An academic investigator proof-of-concept study evaluating the use of CPP-109 for the treatment of Tourette syndrome is ongoing.
Net loss improved in 3Q14
As a development-stage biopharmaceutical company, Catalyst had no revenues in either the third quarter of 2014 or the first nine months of 2014.
For 3Q14, net loss was $5 million or $0.07 a share, compared to net loss of $5.9 million or $0.13 a share in 3Q13. Research and development expenses were $2.88 million compared to $2.80 million in 3Q13. Catalyst expects to incur substantial research and development expenses in the fourth quarter of 2014 as a result of ongoing development projects for both Firdapse and CPP-115.
As of September 30, 2014, Catalyst had $41.4 million in cash and cash equivalents, certificates of deposit, and short-term investments. The company doesn't have any debt.
Point72's 13G positions
Point72 initiated positions in Jones Energy Inc. (JONE), MEI Pharma Inc. (MEIP), and Catalyst Pharmaceutical Partners, Inc. (CPRX).
The fund increased positions in Silicon Motion Technology Corp. (SIMO), RCS Capital Corp (RCAP), Kindred Healthcare, Inc. (KND), Crocs, Inc. (CROX), LogMeIn Inc. (LOGM), Kraton Performance Polymers Inc. (KRA), and Walter Investment Management Corp (WAC).
The fund reduced its position in Clearwater Paper Corp (CLW) and Shutterfly, Inc. (SFLY).
In the next part of the series, we'll discuss Point72's position in Silicon Motion Technology.