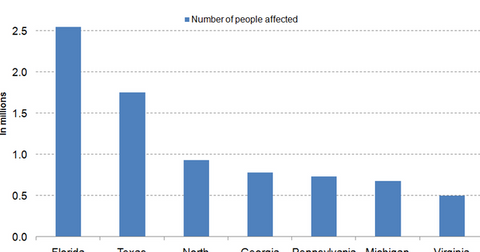 Will tax subsidy structural changes affect the hospital industry?
By Margaret Patrick

Updated
Current structure
The Affordable Care Act (or ACA) introduced new tax subsidies for low- and moderate-income families who are purchasing individual insurance from the health insurance marketplace.
The ACA provides tax credits to low-income households to help them purchase health insurance at insurance exchanges for discounted premiums. Out of the total 8 million people who have enroled through the health insurance marketplace in 2013, about 5 million people have received tax subsidies.
Article continues below advertisement
Legal intervention
The Supreme Court has agreed to hear a case deciding whether a tax subsidy should be provided to low- and moderate-income people buying insurance through federally run exchanges. The case rests on the interpretation of a phrase in the ACA, which allows for subsidies for coverage purchased through "exchanges established by the state." Following the Supreme Court's decision to hear the case, the healthcare industry, represented by the Healthcare Select Sector SPDR (XLV), declined by almost 1%.
The above graph shows the seven of the 36 states with federal exchanges that will be most affected if the tax subsidies are revoked for these exchanges. Community Health Systems (CYH) will be most affected, as more than 90% of its bed capacity is in states with federally run exchanges. Other hospital companies, such as HCA Holdings (HCA), Universal Health Services (UHS), and Tenet Healthcare (THC), will also be affected, as this hearing has put to risk federal subsidies for more than 7.3 million individuals in 2015.
In the absence of federal subsidies, healthy people will opt out of coverage and only extremely sick people will continue with insurance. As the treatment is expensive, insurance companies will ultimately increase premiums, which will further lead to a decline in coverage. This trend will reduce hospital profits.