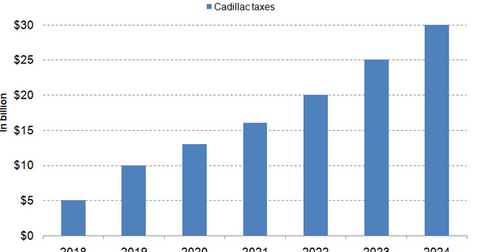 How will the Cadillac tax affect the hospital industry?
By Margaret Patrick

Dec. 31 2014, Updated 10:00 a.m. ET
Cadillac tax
As part of the Patient Protection and Affordable Care Act (or ACA), a 40% excise tax will be imposed on employer-sponsored insurance plans on amounts above $10,200 for individuals and $27,500 for families. The implementation of this tax, called the Cadillac tax, will take effect beginning 2018. Post-2018, the threshold will be indexed to general inflation. According to a study by Truven Health Analytics, by 2020, the Cadillac tax will be imposed on 20% of health insurance plans.
The above graph shows the Congressional Budget Office's (or CBO) estimates that Cadillac taxes imposed from 2018 to 2024 will yield about $120 billion in revenue in this timeframe.
Article continues below advertisement
Hospital industry
The healthcare industry (XLV) will be affected by the Cadillac tax in two ways: as a provider of services for costly healthcare plans and as a major employer for high-earning medical professionals.
Based on research by Bradley Herring and Lisa Korin Lentz, about 16% of health plans will bear the Cadillac tax in 2018. Employers will attempt to reduce their costs by offering less generous health plans by either increasing the portion paid by employees or opting for plans with narrow provider networks.
This, in turn, can reduce healthcare utilization. Hospital operators such as HCA Holdings (HCA), LifePoint Hospitals (LPNT), Community Health Systems (CYH), and Tenet Healthcare (THC) will experience the effect of the tax in areas where patients are mainly covered by relatively high-cost plans. Small employers, employers mainly in high-cost states of the northeast, colleges, and state capitals have historically offered generous healthcare plans and will be most affected by the tax.
Hospitals have also provided more generous employee benefits than other industries. The tax can force these hospitals to face a challenge of reducing these benefits while retaining qualified employees.