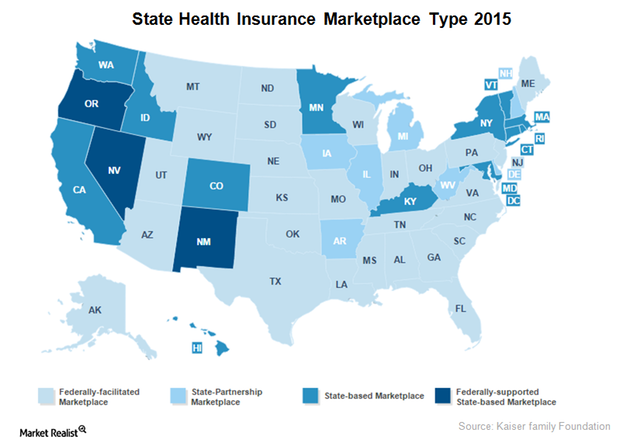 The health insurance marketplace affects the hospital industry
By Margaret Patrick

Aug. 18 2020, Updated 5:30 a.m. ET
Health insurance marketplace
The Patient Protection and Affordable Care Act (or ACA) requires that in every state in the US, there is an online health insurance exchange. These exchanges—also called "health insurance marketplaces"—sell federally regulated, subsidized health insurance to individuals and small businesses.
Health insurance marketplaces are either operated entirely by states, run in partnership with the federal government, or federally operated. In the US, currently, there are 14 state-based marketplaces, three federally supported marketplaces, seven state-partnership marketplaces, and 27 federally facilitated marketplaces.
Article continues below advertisement
Insured population
In 2014, around 8.0 million people were insured through the health insurance marketplace. Out of these people, about 4 million to 5 million were previously uninsured. For 2015, the Congressional Budget Office (or CBO) projects 13 million people will buy insurance in the health insurance marketplace.
The healthcare industry, represented by Healthcare Select Sector SPDR (XLV), continues to benefit from the increase in the insured population, as it reduces the bad debt expense borne by the industry. Hospital operators such as HCA Holdings (HCA), Community Health Systems (CYH), Universal Health Services (UHS), and Tenet Healthcare (THC) have adopted a strategy of developing networks for healthcare providers including hospitals, ambulatory centers, and physician practices. Companies with strong networks are covered in a greater number of healthcare plans on the marketplace and are therefore able to target a greater volume of patients. These companies can also negotiate for higher reimbursement rates for their services.
Employer-sponsored insurance
In addition to individuals, small businesses with 50 or fewer full-time employees can purchase employer-sponsored insurance through the Small Business Health Options Program (or SHOP) online marketplace. According to the CBO estimates, around 2 million people will buy SHOP coverage in 2014. As small businesses were previously unable to afford health insurance, SHOP is an effective method of extending insurance coverage.