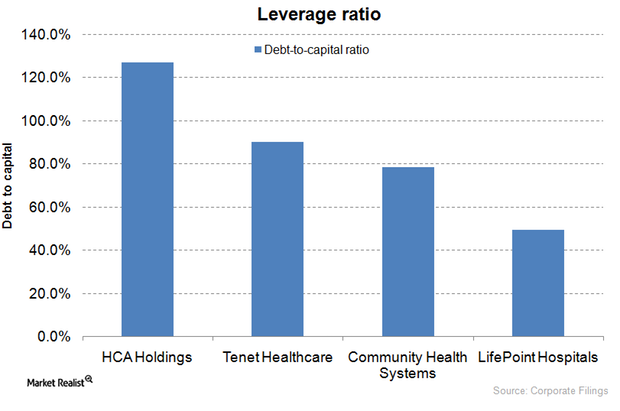 Exploring HCA's debt numbers
By Margaret Patrick

Dec. 16 2014, Updated 8:00 a.m. ET
Debt ratios
According to Bloomberg estimates, the healthcare industry's average debt-to-capital proportion reached 68.72% in the third quarter of 2014. The Health Care Select Sector SPDR ETF (XLV) tracks the healthcare industry, allowing investors to avoid the volatility of individual stocks.
Article continues below advertisement
3Q14 debt-to-capital percentages
The above graph shows the debt-to-capital percentage of HCA Holdings (HCA) is at its highest at 126% in the third quarter of 2014. Tenet Healthcare (THC) and Community Health Systems (CYH) have debt-to-capital percentages of 90.2% and 78.5%, respectively, which are above the average industry percentage. LifePoint Hospitals (LPNT) has a debt-to-capital percentage of 49.2%.
HCA's high debt-to-capital percentage result from the $6 billion negative equity that the company carries on its balance sheet. The company has negative equity because it distributed $16.4 billion in 2006 and $4.3 billion in 2010 to its private equity shareholders.
HCA Holdings also announced a share buyback up to $1 billion from Bank of America, which is further expected to degrade its debt ratio. Negative equity results in a lower credit rating and higher interest expenses. Both Fitch and Moody's rated HCA Holding's long-term debt as non-investment grade. With the company planning to raise $1.5 billion in senior secured notes, a further deterioration in the debt ratios can lead to further rating downgrades.
Article continues below advertisement
Debt coverage ratios
Debt to earnings before interest, tax, depreciation, and amortization (or EBITDA) ratio indicates if a company is capable of servicing its debt from its operating income.
The above graph shows that the debt-to-EBITDA ratio of HCA Holdings decreased by 13% in the third quarter of 2014 on a year-to-date basis, indicating improving operating margins.
Operating margin
The company had a high operating margin of 14.34% in the third quarter of 2014, which was an increase of 17.4% from the margin in the third quarter of 2013. Despite having negative equity, HCA Holdings is backed by strong operational performance and debt-to-EBITDA figures, which are among the lowest in the industry.