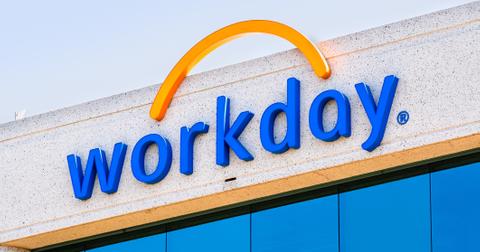 Workday Stock Tanks despite Earnings Beat
By Adam Rogers

Updated
Shares of on-demand human resources and financial management company Workday (WDAY) fell close to 6% in early market trading today. The stock is currently trading at $163.7, 29% below its 52-week high and 16% above its 52-week low.
Workday announced its fiscal 2020 third-quarter earnings results yesterday after the market closed. It reported sales of $938.1 million, up 26.2% YoY (year-over-year), and adjusted EPS of $0.53.
Analysts had expected the company to post sales of $920.78 million and EPS of $0.37 in the quarter. So why is its stock down despite beating Wall Street's earnings and revenue estimates?
Workday expects subscription sales of between $3.085 billion and $3.087 billion in fiscal 2020. This expectation suggests subscription sales of between $828 million and $830 million in the fourth quarter. In fiscal 2021, the company expects subscription sales growth of 21% YoY.
Article continues below advertisement
This 2021 forecast is significantly lower than the 28% subscription growth it experienced in the first three quarters of fiscal 2020. Does Workday expect a slowdown in global tech spending, or is this just a conservative estimate by management? It seems like Workday's forecast for 2021 didn't impress.
What drove Workday's third-quarter sales?
In the third quarter, Workday's subscription sales rose 27.9% YoY. Its subscription growth was driven by an expanding customer base. Workday continues to be one of the top players in the cloud HCM (human capital management) application segment. It's now gaining traction in the cloud financial management market as well.
Over 3,000 customers globally use WDAY solutions for everyday business use. In the third quarter, it added six Fortune 500 and 11 Global 2000 companies as customers. Its major customer wins in the HCM segment include Anheuser-Busch InBev, Royal Bank of Canada, Magna International, and Sutter Health.
Workday's Financial Management segment also experienced strong momentum in its portfolio of solutions. In this segment, it onboarded major companies such as Consumer Direct Care and WPP Group USA.
Article continues below advertisement
Workday CEO Aneel Bhusri stated, "Companies of all sizes and industries continue to select Workday, and we're thrilled that as of the end of Q3, we have more than 3,000 customers and 42 million users. As our community grows, so do our applications. We recently announced plans to deepen our offering for the office of finance with the intended acquisition of Scout RFP."
He added, "We also unveiled several ways our customers can leverage leading machine learning capabilities that are powering our applications – helping them to make more informed decisions as they navigate this changing world of work."
Last month, Workday announced its intent to acquire Scout RFP, a cloud-based platform in the supply chain space. The acquisition has been valued at $540 million and will be an all-cash transaction.
Scout RFP has become an enterprise favorite in the procurement vertical. It's pretty clear Workday is looking to expand its business lines to offer operations solutions after focusing on HCM and financial management capabilities.
How do analysts view WDAY?
Shortly after Workday reported its quarterly results, several analysts reevaluated its target price, according to multiple reports from The Fly.
Workday stock lost 12% on October 16 this year after several analysts revised their target prices downward. There's been concern over lower enterprise spending in 2020 that resulted in lower-than-expected estimates for tech giants such as Cisco, NetApp, and DXC.
Due to the recent pullback, WDAY has returned just 2.5% year-to-date, grossly underperforming the broader markets. In the last five years, the stock has gained an impressive 96%.
Workday stock is trading at a forward PE ratio of 78x. In comparison, analysts expect its earnings to grow at an annual rate of 28% in the next five years. Its market cap-to-sales ratio stands at 11x, and its high valuation might be a cause for concern—especially in a slowing global environment.