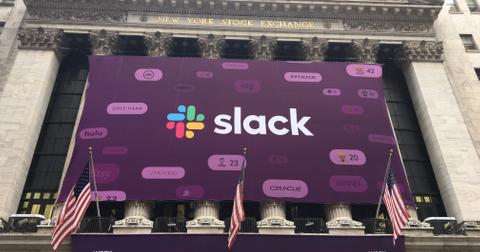 Will Slack's Q3 Earnings Boost Its Troubled Stock?
By Mike Sonnenberg

Updated
Slack is set to release its fiscal 2020 third-quarter earnings results tomorrow after the market closes. This is only the second earnings release for the company since it went public in June. Since it released its second-quarter earnings results on September 4, it's lost over 20% of its value.
The company made headlines with an astonishing and unusual public debut without bankers' help. However, its stock lost its momentum soon afterward. The plight of Slack investors has escalated in recent months, with the stock hitting new lows. At 12:48 PM ET, the stock was trading at $22.6, 0.4% higher than yesterday's close. It remains close to its all-time low of $19.53. The S&P 500 was down 1.02% as of the same time after President Donald Trump's recent comments fueled doubts about a trade deal with China.
Article continues below advertisement
What are analysts saying before Slack's earnings?
Analysts surveyed by Reuters expect Slack to have generated $156.02 million in revenue in the quarter that ended on October 30. The company will likely continue to post operating and net losses during the quarter. It isn't expected to be profitable for several quarters to come.
Among the 18 surveyed analysts, five give it "strong buys," four give it "buys," and eight give it "holds." Its average target price in the next year is $29.94, around a 32.6% upside from its current price. However, its average target price has been steadily falling for the last few months as analysts have readjusted their expectations.
Slack is losing to Microsoft Teams
The competition between Slack, Microsoft Teams, and Facebook Workplace has only intensified since Slack went public. Last month, Microsoft Teams reached 20 million daily active users, adding 7 million users in just four months. In October, Slack reached 12 million daily active users, taking nine months to add 2 million. Slack's revenue growth is falling as a result. Its revenue more than doubled in fiscal 2018, but its growth slowed to just over 80% in fiscal 2019. At the midpoint of the guidance, Slack's revenue will likely grow just over 50% in fiscal 2020. Since Microsoft (MSFT) bundles Teams with its Office 365 subscription, the revenue details specific to Teams aren't available.
Article continues below advertisement
Why WORK could face more heat
Microsoft's lead could push Slack, which is already at a disadvantage on several fronts, to the edge. First, Slack doesn't have its own product family with which to cross-sell and bundle. Second, Slack doesn't have the war chest Microsoft has. In September, Slack's cofounder and CEO, Stewart Butterfield, said that "growth is the priority."
With no profits in sight, Slack will have to rely on its cash reserve to drive customer and revenue growth. As of July 31, Slack had about $800 million in cash and cash equivalents. On September 30, Microsoft had $136.6 billion in cash and cash equivalents, while Facebook (FB) had over $48 billion in cash. Not quite a match, is it?
We believe that it's only a matter of time before Microsoft Teams becomes the standard in team collaboration, just like PowerPoint rules boardrooms. If Slack's earnings present a massive positive surprise tomorrow, we may reconsider our view.
What to watch for in tomorrow's earnings release
To learn about how quickly enterprises are adopting Slack, we'll have to watch for the number of enterprise customers using it. However, just knowing the growth in the number of companies using Slack won't be enough for us to get a sense of its revenue growth. We'll have to watch for the number of companies that are paying.