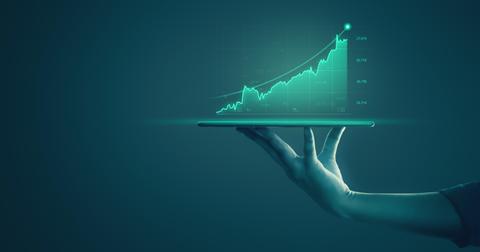 MongoDB Stock Gains 5% after a Strong Third Quarter
By Adam Rogers

Updated
Shares of MongoDB (MDB) have gained over 5% in early market trading today. At the time of writing, the general-purpose database platform company's stock was trading at $138. The company announced its earnings for the third quarter of fiscal 2020 (ended in October) yesterday after the market closed.
MongoDB reported sales of $109.4 million, up over 52% year-over-year from sales of $71.78 million in Q3 of fiscal 2019. Its earnings per share also improved from -$0.30 in the third quarter of fiscal 2019 to -$0.26 in the third quarter of fiscal 2020.
Article continues below advertisement
Analysts expected the company to post sales of $99.79 million with EPS of -$0.28 in the October quarter. In the fourth quarter of fiscal 2020, the company forecast sales of $109 million–$111 million with EPS between -$0.29 and -$0.27. Comparatively, the consensus revenue forecast stands at $105.48 million with an earnings per share forecast of -$0.30.
MongoDB's strong October quarter and stellar guidance have driven its shares higher today.
What drove MongoDB's sales in Q3?
MongoDB's database platform allows applications to run at scale across the cloud, on-premise, and in hybrid environments. With its subscription package, MongoDB Enterprise Advanced, its platform includes capabilities for database servers, security, and enterprise management.
The company's subscription sales for the October quarter stood at $103.8 million for growth of 56% YoY. Subscription sales accounted for 95% of total sales. Its services sales rose 8% YoY to $5.6 million.
The company added autoscaling to its MongoDB Atlas offering, which brings automated facility management capability to the MongoDB databases. The cloud business vertical has generated over $175 million in annual run rate and has more than 14,200 customers.
In the last quarter, MDB continued to grow via partnerships. It collaborated with Alibaba Cloud (BABA) and has gained a foothold in the fast-growing China market. Alibaba Cloud customers would now have access to MDB's offerings from the former's cloud data centers.
MongoDB's president and CEO, Dev Ittycheria, stated, "MongoDB's terrific third quarter results are the latest example of how the powerful combination of our modern data platform and sophisticated go-to-market efforts are driving increased adoption by both new and existing customers."
Ittycheria added, "The rapid growth of Atlas, which now comprises 40% of our business, is a clear demonstration that customers of all sizes recognize the value and flexibility of a managed cloud database-as-a-service."
Article continues below advertisement
Analysts raise price targets
Shortly after MDB released its Q3 results, several Wall Street analysts revised their target prices for the stock, according to multiple reports from TheFly.
Is MongoDB stock overvalued?
Analysts appear to be concerned over MDB's stock valuation. In terms of market cap, MongoDB's value is $7.77 billion or 18.2x its fiscal 2020 sales. While MDB stock can be considered overvalued, it is trading at similar multiples to other high-growth stocks.
Respectively, shares of Roku, The Trade Desk, and Alteryx are trading at 15.5x, 17.1x, and 17.9x forward sales. These multiples are supported by high growth metrics.
MongoDB increased its sales from $155 million in fiscal 2018 to $267 million in 2019. Analysts expect sales to reach $409 million in 2020, $525 million in 2021, and $686 million in 2022.
However, like most other tech growth stocks, MDB is still reporting an adjusted loss. It ended 2019 with an EBITDA of -$48.4 million. According to consensus estimates, MDB's EBITDA might improve to -$43.9 million in 2020, -$32.5 million in 2021, and $25.2 million in 2022.
MDB is debt-free, ending the October quarter with a cash balance of $426.4 million. Its cash from operations was -$11.5 million while its capital expenditure was $0.8 million. Its repayments of financial leases totaled $0.8 million, leading to free cash flow of -$13.1 million.
Plus, analysts might have lowered their price targets due to the expected slowdown in tech spending. The recession calls are becoming louder, although markets are trading at record highs.
Shares of enterprise-facing companies such as Cisco Systems, Arista Networks, and NetApp have seen their stock prices decline in the last quarter due to lower corporate spending. If a slowdown hits global economies next year, the performance of growth stocks would take the greatest hit due to their premium valuations.
MDB stock went public on October 20, 2017. The stock has since crushed market returns and has gained 350% since then.