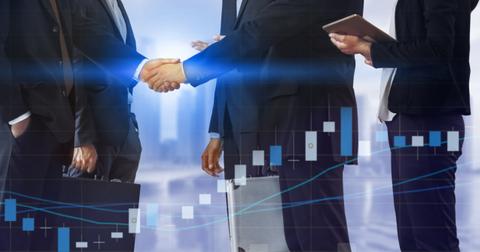 Dish Stock Reacts to First Week of T-Mobile–Sprint Merger Trial
By Ruchi Gupta

Updated
The court trial of the T-Mobile–Sprint merger deal entered its second week today. Dish Network (DISH) stock wrapped up the first week of the trial on a positive note. The stock gained about 1.60% last week. However, T-Mobile (TMUS) and Sprint (S) lost ground. T-Mobile stock fell 2.92%, and Sprint stock declined 5.79% last week.
As the stakes are high for Dish's wireless venture in the T-Mobile–Sprint merger trial, Dish stock will likely be sensitive to developments in the trial.
Article continues below advertisement
States want to stop T-Mobile–Sprint merger
Dish stock jumped on July 26, along with T-Mobile and Sprint stocks. That was the day Dish revealed an arrangement that would see its wireless business benefit from the T-Mobile–Sprint merger deal.
However, a coalition of more than a dozen states sued to block the T-Mobile–Sprint merger from happening. The states have argued that the merger would reduce wireless competition and allow operators to hike prices. Consequently, consumers would be hurt by having to pay more for wireless services, the suing states have charged.
T-Mobile and Sprint merger trial arguments and revelations
T-Mobile CEO John Legere testified in the merger trial last week and argued that the suing states don't seem to understand what is happening. Legere testified that the T-Mobile–Sprint merger deal failing would actually drive up wireless prices, hurting consumers.
The executive explained that if T-Mobile fails to combine with Sprint, then T-Mobile could try to reduce pressure on its network. The company would do that by raising prices to slow down subscriber growth. T-Mobile has been leading in wireless subscriber gains recently.
Sprint has a massive trove of spectrum that T-Mobile would have access to if the merger goes through. With Sprint's spectrum, T-Mobile hopes to strengthen its network further and increase wireless competition, which will, in turn, benefit consumers.
Article continues below advertisement
Even as Legere denied the T-Mobile–Sprint merger would to lead to higher wireless prices, it emerged that Sprint executive Roger Solé has predicted price hikes if Sprint combines with T-Mobile. The suing states have used Solé's thinking to support their argument that the proposed T-Mobile–Sprint merger would hurt consumers.
Dish stock down since the company became party to T-Mobile–Sprint merger
Investors celebrated Dish's arrangement with T-Mobile and Sprint, and the companies' stocks jumped following the deal's announcement on July 26. But the stocks have been unable to hold onto their gains. Dish stock has fallen about 14% since July 26. T-Mobile stock has declined more than 10% since then, and Sprint has dropped nearly 35%.
The delay in the deal's closing seems to be worrying Dish investors. Dish's wireless venture could suffer a major setback if the T-Mobile–Sprint merger deal flops. But it could gain if the suing states force T-Mobile and Sprint to drop more assets to support Dish's wireless business.