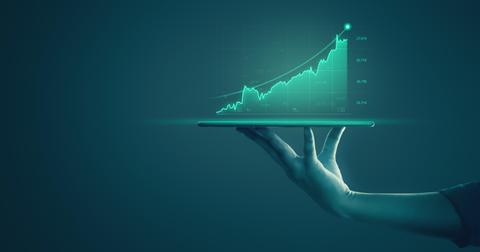 Datadog Stock: Shares Soar after Stellar Results
By Adam Rogers

Updated
As a newly listed company, Datadog (DDOG) shares have gained close to 18% in early market trading today. The company announced its third-quarter results and reported revenues of $95.9 million with an adjusted EPS of $0.00.
Datadog easily beat the consensus revenue estimates of $84.73 million and EPS estimates of -$0.14. In the December quarter, the company forecast sales between $101 million and $103 million—above the estimates of $91.5 million. Datadog also expected an EPS between -$0.02 and -$0.01 compared to analysts' EPS estimates of -$0.05.
In 2019, the company's sales will range between $350 million and $352 million compared to the consensus estimates of $330.22 million.
We can see that Datadog's stellar September quarter revenues and strong guidance sent the stock higher today.
Article continues below advertisement
What drove Datadog's sales higher in Q3?
Datadog is a SaaS (software-as-a-service) based analytics platform. The company provides monitoring services for cloud-based applications, servers, and databases. Datadog aims to provide real-time actionable insights for software applications and enterprise IT infrastructure.
In the September quarter, Datadog had 727 customers with average recurring revenues of $100,000 or more—up from 377 customers in the same period the previous year. The customers grew 93% year-over-year. Datadog ended the third quarter with 9,500 customers—34% growth YoY.
Datadog's dollar-based net retention rate in the third quarter rose 130% due to customer usage and product adoption. The company is able to cross-sell several products after customers are part of its ecosystem.
In the September quarter, around 50% of the company's customers were using two or more products. The number was 40% in the second quarter, while it was significantly lower at 15% 12 months ago.
Several enterprises are shifting from on-premise IT architecture to the private and public cloud. They're also investing heavily in technologies like serverless computing. While these technologies will help improve agility, Datadog claims that deploying these technologies is complex.
Companies' digital transformation presents an opportunity for Datadog, which has estimated the addressable market at $35 billion.
Efficient operating model
During the earnings call, Datadog emphasized the importance of its efficient operating model. As expected, the company has increased investments in R&D (research and development) as well as in sales and marketing. In the September quarter, the R&D expenses were 30% of the revenues—up from 27% in the same period the previous year.
Due to strong cash payback, Datadog claims to have burnt just $30 million in cash since it started. The company's operating cash flow at the end of the third quarter was $3.8 million. The operating cash flow was $6.8 million year-to-date.
Datadog continues to invest in product development. The company announced over 15 new products in its July annual conference this year.
Article continues below advertisement
One of the products was Network Performance Monitoring. As the name suggests, the product allows users to visualize the flow of network traffic across IT environments. According to the company, the solution is compatible with major cloud providers. Another recently launched product is the Real User Monitoring, which allows users to analyze the performance of applications.
What's next for Datadog and investors?
On Tuesday, Datadog also announced that it established a Japanese subsidiary—Datadog Japan GK. The company's vice president, Andy Clark, said, "Japan is an important and growing market for Datadog, with many cloud-scale enterprises and increasing levels of cloud adoption. Establishing Datadog Japan GK is an important part of our effort to serve this market."
Currently, Datadog stock is trading at $40.5, which is well above its IPO price of $27. The stock is one of the few tech IPOs in 2019 that has generated positive shareholder returns. The company's solid third-quarter metrics resulted in revised target price estimates.
According to a report from The Fly, Stifel raised the stock's target price from $40 to $43. Jefferies also increased the stock's target price from $34 to $36.
Datadog is valued at $11.8 billion or 33.7x forward sales. The company trades at a premium since it's still posting an adjusted net loss. The stock has a price-to-sales ratio of 44.5x. While the company is estimated to grow sales from $198 million in 2018 to $470 million in 2020, it will also need to focus on improving profit margins to keep investors interested.
Similar to other tech IPOs, Datadog is vulnerable in a sell-off due to its high valuation metrics.