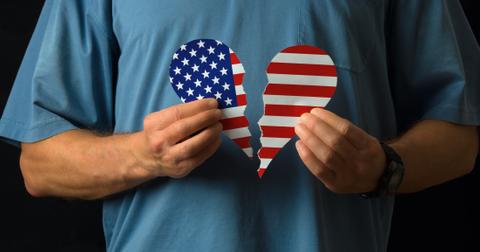 Will Trump Impeachment Inquiry Impact the Trade War?
By Mike Sonnenberg

Updated
Article continues below advertisement
Trump's impeachment inquiry begins
President Trump's phone call to Ukrainian President Volodymyr Zelenskiy in July is the main focus.
During the call, President Trump asked for personal favors, especially related to an investigation into Joe Biden's son. Former Vice President Joe Biden is in a tight race with Elizabeth Warren for the Democratic nomination in the 2020 election.
On Tuesday, markets retreated to the news of President Trump's impeachment inquiry, his comments related to the trade war, and dismal consumer confidence data.
Biden's Ukraine connection
We heard about the possibility of President Trump's impeachment in the past. However, the call transcript provides serious evidence. Joe Biden's son, Hunter Biden, took a board position in Burisma Holdings in 2014. At the time, his father was serving as the vice president. Notably, the company's owner was being investigated before Hunter Biden joined the board.
Joe Biden was publicly against the state prosecutor, who was also investigating the case against Burisma Holdings' owner. Biden, a series of countries, and the IMF weren't happy with the prosecutor, Viktor Shokin. The prosecutor didn't curtail corruption, according to CNN. Joe Biden threatened to cancel $1 billion loan guarantee if Ukraine didn't curtail the corruption. President Trump accused Joe Biden of getting the prosecutor fired to save his son.
Article continues below advertisement
Reading between the transcript lines
In the call transcript, President Trump told President Zelenskiy how much the US does for Ukraine. He said, "The United States has been very very good to Ukraine. I wouldn't say that it's reciprocal necessarily because things are happening that are not good." He asked President Zelenskiy to investigate a conspiracy theory related to email theft from the Democratic National Committee's servers.
Late in the call, President Trump asked President Zelenskiy to work with Attorney General William Barr to investigate Joe Biden's son. As a result, Pelosi launched a formal investigation for President Trump's impeachment.
What's next in Trump's impeachment process?
The House of Representatives starting the inquiry is the first step in the process. The House Judiciary Committee will start an investigation into President Trump's impeachment. Then, the House will have to pass the impeachment proposal with a simple majority. With Democrats holding a clear majority in the House, this step might be the most testing one for President Trump.
Second, the Senate will try President Trump for impeachment. US Chief Justice John Roberts will oversee the proceedings. The Senate would need to pass the House's decision with a supermajority or 2/3 vote to remove President Trump from the Oval Office. Although Republicans control the Senate, the upcoming election and disagreements with President Trump on policy issues might cause some Republican senators to deflect. Some of the senators might try to distance themselves from President Trump. Political calculations will likely impact whether the senators vote for or against President Trump's conviction.
Also, President Trump could choose to resign. President Nixon resigned in 1974 to avoid getting impeached and removed from office.
Article continues below advertisement
Will the inquiry impact the trade war?
Article continues below advertisement
While other companies are leaving China to bypass US tariffs, Tesla (TSLA) is building a factory in China to tap the local market and escape Chinese tariffs. Tesla will also save on manufacturing costs by producing locally. China is scheduled to levy 25% tariffs on US cars starting on December 15. Tesla will produce Model 3 in China. Notably, the company's other models will be subject to the tariffs.
Trump's impeachment and semiconductor stocks
President Trump's impeachment and removal might give Vice President Pence more negotiating power with China. Negotiations might lead to an agreement on Huawei, which has been a bone of contention in the trade war. Companies like Qualcomm (QCOM), Broadcom (AVGO), Intel (INTC), and Micron (MU) might benefit from negotiations. However, we'll have to see how soft Pence gets with his hardline approach with intellectual property.
Article continues below advertisement
Qualcomm earns 65% of its revenues from China. Notably, Huawei accounting for more than 10%. Broadcom and Micron earn over half of their revenues from China. In contrast, Intel relies on China for a quarter of its revenues. Since May, Qualcomm has lost 10.3% due to trade war concerns, while Broadcom has lost 13.4%. Intel has stayed flat during the same period.
Fresh tariffs on phones and electronics will be effective on December 15. As a result, the situation could get worse for semiconductors. Gartner expects global semiconductor revenues to fall 9.6% year-over-year to $429 billion this year.
Collateral damage
President Trump's impeachment could also hurt Joe Biden's prospects for getting the Democratic nomination. President Trump might increase the personal attacks on Joe Bidden and his son. The situation might be an advantage for Elizabeth Warren, who's more left-leaning than Biden. A battle between a far-right Pence and far-left Warren would be interesting to watch.