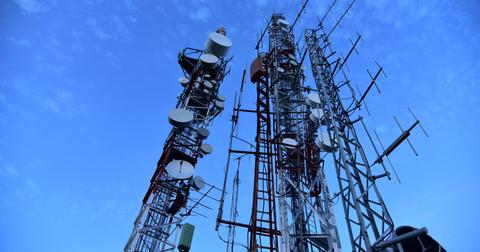 How Dish Could Benefit from State-Led Pressure on T-Mobile
By Ruchi Gupta

Updated
Article continues below advertisement
The T-Mobile–Sprint merger deal
To secure federal approval for their merger deal, T-Mobile and Sprint agreed to divest certain assets to Dish. They agreed to sell some wireless spectrum and Sprint's prepaid brand to the company for $5.0 billion. As we discussed previously, the assets divested by T-Mobile and Sprint will help jumpstart Dish's wireless venture.
Dish has long relied on selling satellite TV subscriptions. However, cord cutting is shrinking the traditional pay-TV market as consumers shift to online video services such as Netflix. As a result, Dish and fellow pay-TV providers, including Comcast (CMCSA), Charter (CHTR), and Altice (ATUS), are losing TV customers. Dish lost 79,000 satellite pay-TV customers in the second quarter, according to Leichtman Research figures. Comcast shed 224,000 pay-TV customers in the second quarter. Charter and Altice lost 141,000 and 20,800 pay-TV customers, respectively, in the quarter. AT&T's (T) DIRECTV lost 778,000 pay-TV customers in the quarter.
State pressure could lead to T-Mobile selling more wireless assets to Dish
Now Dish wants to enter the US wireless market in an apparent attempt to diversify its business. Its wireless venture will immediately roar to life as soon as T-Mobile and Sprint complete their merger. It will begin selling wireless phone plans on T-Mobile's and Sprint's networks as it builds out its own wireless infrastructure. As we discussed previously, the divested assets could generate over $3.3 billion in wireless revenue annually for the company.
The trial for the case brought by the states against the T-Mobile–Sprint merger will start in December. Therefore, the state-led lawsuit threatens to delay the launch of Dish's wireless business. However, we believe that the case could also benefit Dish's wireless venture.
In their opposition to the T-Mobile–Sprint merger, the suing states have argued that the deal would reduce wireless competition and drive up costs for consumers. The Department of Justice raised similar concerns, and T-Mobile addressed them by agreeing to sell some assets to Dish. Therefore, we believe that if push comes to shove, T-Mobile could agree to relinquish more assets to Dish to settle with the states and save the merger deal. T-Mobile and Sprint divesting more assets would provide Dish's venture with even more important building blocks.