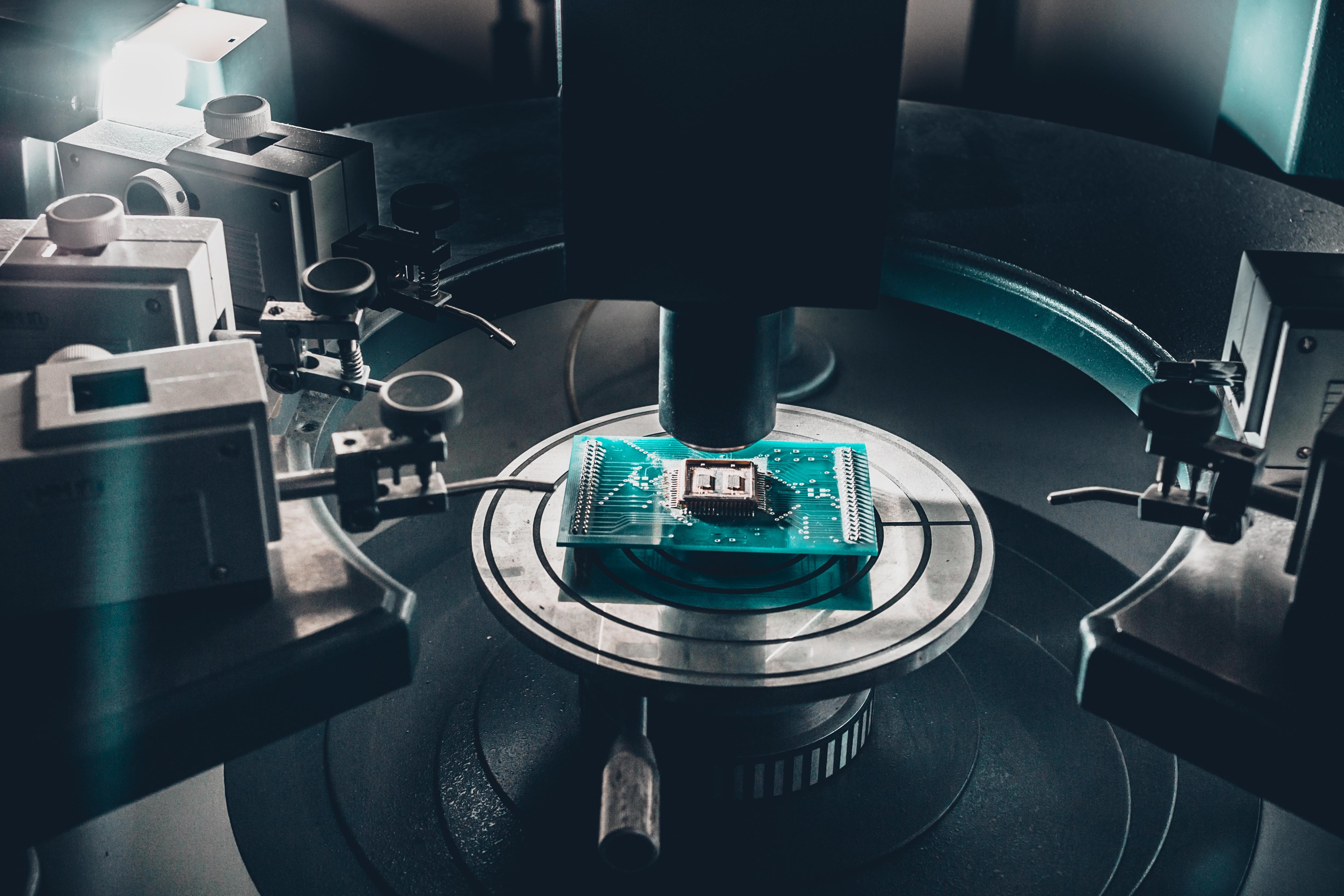 TSMC's Earnings Give Semiconductor Investors Hope
By Puja Tayal

Jul. 19 2019, Published 7:56 a.m. ET
On July 18, TSMC reported its second-quarter earnings, which beat estimates and hinted that the worst could be over. The company's third-quarter revenue guidance stated that the industry is now set on a growth path. It's the second chip company after Micron that expects demand to grow in the second half.
Memory chipmaker Micron Technology (MU) reported better-than-expected earnings but weaker guidance on June 25. It increased its DRAM (dynamic random access memory) industry demand growth outlook for 2019 but expects memory price declines to continue. It expects demand to recover in the second half, which sent the VanEck Vectors Semiconductor ETF (SMH) up ~3% a day after the earnings. TSMC's earnings guidance shows a similar picture. Before we discuss TSMC more, let's first understand what the company does.
Article continues below advertisement
What does TSMC do?
Taiwan Semiconductor Manufacturing Company (TSM) is the world's largest foundry and manufactures semiconductors for tech and chip giants like Apple (AAPL), Huawei, Qualcomm, NVIDIA, Xilinx, and Advanced Micro Devices (AMD). The foundry invests in new manufacturing and packaging technologies to make the most advanced chips designed by its customers. Its broad exposure across different end markets makes its earnings a barometer for the overall semiconductor industry's health.
The semiconductor industry, including TSMC, is vulnerable to any potential escalation in the United States-China trade war. Despite these trade tensions, Micron's and TSMC's earnings make investors cautiously optimistic about future growth. TSMC's earnings will likely drive the stocks of AMD and AAPL upwards, and analysts expect SMH to rise in the low-to-mid single digits. When we say cautiously optimistic, it means that the stock should rise but at a slower rate than before.
Article continues below advertisement
What do TSMC's earnings say about the semiconductor industry's health?
Two months back, the United States-China trade war escalated as both countries increased tariffs. The United States imposed a trade ban on Huawei and its 70 affiliates in mid-May. It is easing the Huawei ban as the two countries come to the negotiation table once again after stalling talks in May.
TSMC has weathered through most of the semiconductor headwinds including the crypto bubble burst in June 2018, the slowdown in smartphone demand in the fourth quarter of 2018, and the Huawei ban in May 2019. Any further trade escalation will make investors interested in TSMC's outlook as the foundry.
In the first quarter, TSMC reported its steepest revenue decline in eight years and the steepest profit decline in seven years. It seems that TSMC's earnings hit the bottom in the first quarter, as it recovered slightly in the second quarter. Its revenue rose 9.2% sequentially partially because of strong demand for its 7-nm (nanometer) process node.
In the second-quarter earnings release, TSMC's chief financial officer, Lora Ho, stated that the global economic slowdown continues to impact the company. Amid the downturn, the foundry expects 5G networks, Internet-of-Things, and other new tech trends to drive demand in the second half. It also expects smartphone demand to recover in the second half and beyond.
TSMC is optimistic about second-half growth. However, analysts are cautious about growth because the trade war slowed 5G network development, smartphone demand remains weak, and chip companies struggle with excessive inventory created due to weak 2018 holiday season sales.
Article continues below advertisement
Behind TSMC's second-quarter revenue growth 
In the second quarter, TSMC's revenue rose 9.2% sequentially but fell 1.4% YoY to $7.75 billion, beating its own higher-end guidance of $7.55 billion to $7.65 billion. The YoY decline was due to the weakening of the US dollar. TSMC's monthly sales data shows that sales rose 21.9% YoY in June after six straight months of decline. Such strong growth was likely driven by orders from AMD. AMD launched its 7-nm PC CPUs (central processing units) and GPUs (graphics processing units) on July 7, which means it stocked these products in June. TSMC's lead in the 7-nm technology drove June sales growth as its rival United Microelectronics' sales fell 12.4% YoY in June sales.
TSMC provides a breakup of revenue by technology and platform. The HPC (high-performance computing) platform, which accounts for 32% of its revenue, reported 23% sequential growth in the second quarter and was a key revenue driver. AMD, NVIDIA, and Xilinx are some major HPC customers of TSMC.
TSMC's smartphone platform, which accounts for 45% of its revenue, reported 5% sequential growth. Apple is its biggest smartphone customer. It is manufacturing A13 processors for Apple's 2019 iPhones on its 7-nm Plus node with EUV (Extreme Ultraviolet) technology. IoT and automotive are fast-growing sectors but they currently contribute less than 10% towards TSMC's revenue.
On the technology node front, TSMC's revenue from 16/20nm node rose 57% sequentially, whereas that from 7-nm node rose 4.2% sequentially in the second quarter. In the previous quarter, the foundry scrapped a large chunk of 12/16nm wafers because of a factory contamination incident at Fab 14B. The company shifted production of these wafers to the second quarter, which drove revenue from the 16-nm node.
Article continues below advertisement
Profitability at a glance
Manufacturing operations have normalized at TSMC and that is visible in its profit margins. A foundry's gross margins improve when its fabrication facilities are utilized at the optimum level. Its second-quarter gross margin improved to 43% after bottoming out at 41.3% in the prior quarter. The improvement came as there was no additional cost of contamination and there was higher capacity utilization of the 7-nm node. The benefit of higher gross margin trickled down to the operating margin, which improved to 31.7% from 29.4%.
TSMC's earnings guidance shows growth
For the third quarter, TSMC expects its revenue to rise 18% sequentially and 7.8% YoY to $9.15 billion. Thus, in this quarter, TSMC expects the majority of sales to come from Apple. 5G network equipment and orders from AMD should also drive growth. An increase in revenue will likely improve TSMC's capacity utilization, and thus, its gross margin. It expects its gross margin to improve to 47% and operating margin to improve to 36% in the third quarter. This guidance is vulnerable to any escalation in the trade war.
Article continues below advertisement
More capital spending on advanced nodes
TSMC is spending more on advanced technologies, which could increase its 2019 capital spending beyond its guided range of $10 billion to $11 billion. It is expanding its 7nm process capacity. In May, it started mass production on its EUV-based 7nm Plus node. The company is manufacturing mobile processors for Huawei and Apple on this node. This node will improve a processor's performance by 10%, efficiency by 15%, and transistor density by 20% as compared to the 7-nm node. The revenue from the 7-nm Plus node will reflect in TSMC's second-half earnings.
In regards to 5-nm chipsets, TSMC unveiled the design infrastructure in April and expects to start volume production in Q1 2020. TSMC will manufacture Apple's A14 chips for 2020 iPhones on its 5-nm node. It expects the 5-nm chipsets to offer 80% more transistor density and 15% better performance than the 7-nm Plus chips.
TSMC is also working on its 3nm node and expects to start its mass production by 2022. Taiwanese media TechWeb reported that the foundry launched research and development on its 2-nm process node at its facility in Hsinchu, Taiwan. It expects to start mass production on the 2nm node by 2024.
Article continues below advertisement
In the advanced packaging technologies, TSMC is spending on InFO (integrated fan-out) and CoWoS (chip-on-wafer-on-substrate). TSMC presented a research paper titled "A 7nm 4GHz Arm-core-based CoWoS Chiplet Design for High-Performance Computing" at the VLSI Symposia. In this paper, it looks to overcome the limitations of chipset design with packaging and interconnect technologies.
Key takeaways from TSMC's earnings
TSMC's investment in advanced manufacturing nodes is paying off. The foundry has a lead in the 7-nm process node technology. This technology lead is helping it attract more customers and improve earnings even in an economic downturn. Rising earnings are encouraging it to spend more on advanced nodes.
Meanwhile, the semiconductor industry is absorbing its excess inventory and looking to move to the 7-nm node as seasonal demand picks up. TSMC expects smartphone demand to improve in the second half with the launch of new models. It also expects demand to grow in new tech trends of high-performance computing and IoT. The positive earnings make analysts cautiously optimistic on future growth. However, the company is vulnerable to any escalation in the US-China trade war.